Even though we have not been to school for a few year, comes September we still want to wear new clothes. But obviously now they have to be freshly out of our sewing machine.
Here is the guide our team put together of the clothes to wear this autumn.
I AM JOY
Who am I? I am Joy incarnated. My enthusiasm delights as much as my sensuality. I am a seemingly simple top but my 3/4 sleeves finished with an elastic band and my ruffled sleeves give me an audacious and delicate note.
Occasions: Whether you're going to the office, a date, a meeting, an exhibition or even to go to the cinema, you will want to have me with you.
I AM CHARLOTTE
Who am I? I am an elegant and easy to make pencil skirt. The buttons at the front give me a modern look. Finished with a sewn waistband I am irresistible and graceful. Find @ceciletood's pattern hack to sew a belt. A simple yet lovely hack that adds a je ne sais quoi to this classic skirt.
Occasions: Charlotte has a very classic straight cut. You will wear it anywhere. We're thinking it's perfect for a date or even a professional meeting (especially when sewing @ceciletood's version with added belt). And why not for a night out with your girlfriends?
I AM DELPHINE
Who am I? I am Delphine, an easy to sew women's jacket. I am the simplicity of a lovely straight-cut jacket combined with the elegance of a faux-fur. Waist length or a bit longer you choose to sew me with or without pockets. Featuring a traditional collar, I am the perfect jacket for a trendy everyday life. You can also line me using the complimentary extension.
Occasions: If it's cold, I'll be there…
I AM CUPIDON
Who am I? I am a sweater best for mid-season, your ally for cool days. I will softly embrace you in my loving arms.
Occasions: Cupidon is so comfy that you won't want to wear anything else. Wear it with a cami top or a t-shirt for a casual look to stay at home, work in the garden and at the office. But if you choose to wear a shirt underneath, it's perfect for a quick trip to the city or even a date.
I AM CASSIOPEE
Who am I? I am Cassiopée an easy to make, easy to wear dress. Any fabric suits me and you can reinvent me ad infinitum to match your every mood. You and me together we will dazzle everyone like two shooting stars lighting up the sky. Discover the short sleeve extension and the lace back pattern hack.
Occasions: Autumn, Winter, Spring and Summer, you can wear me all year long and for any occasion like sipping a cocktail on a rooftop, writing an email at the office, watching series on the sofa all weekend long or looking at the stars with your partner…
I AM ZEBRE & I AM LION
I AM ZEBRE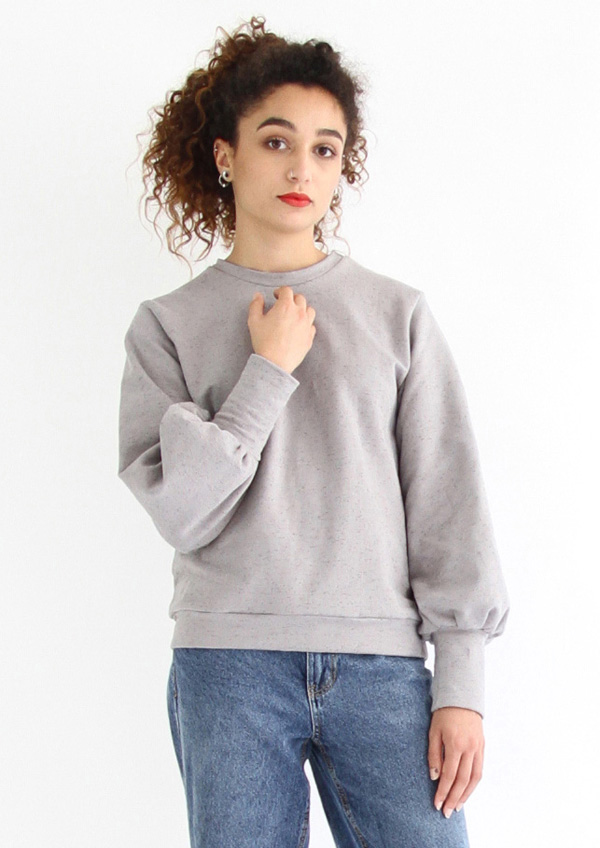 I AM LION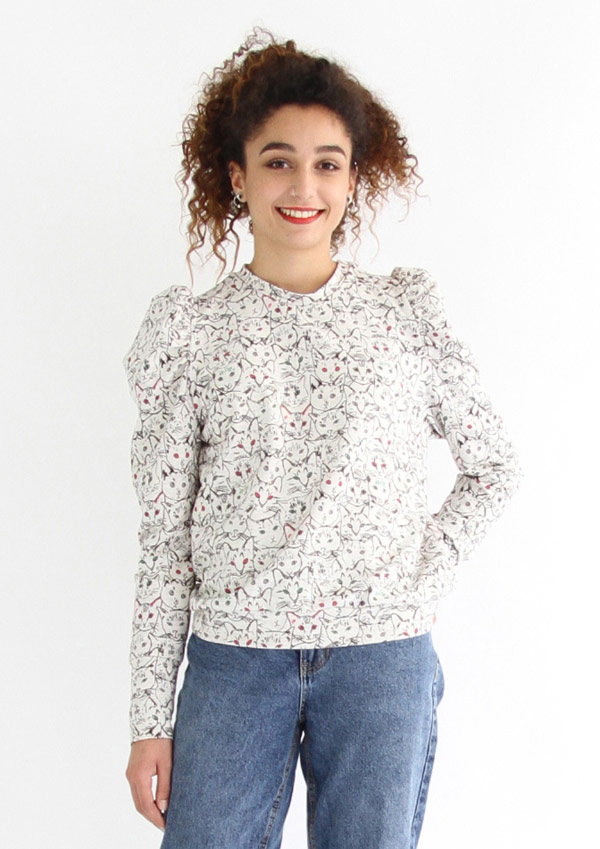 2 for 1 in PDF: Buy Zebre and Lion together for the price of one PDF pattern.
Who are we? I AM Lion and I AM Zèbre are two sweatshirts with a classic shape that is enhanced by the volume of their sleeves: puff sleeves for Lion and balloon sleeves for Zèbre. They both have 3 snap fasteners on the left shoulder to open and close.
Occasions: Sweatshirts unlike any others, you can wear Lion and Zèbre for a night out, a cosy weekend on the sofa or at the seaside, an exhibition or even at a gig. If you want to be comfortable throughout a busy day, those two will be there for you.
I AM LIBELLULE
Who am I? I am a dress or a shirt if sewn at your normal size and I can also be a long or short jacket if you sew me a size up. I have a flared shape, a straight collar closing with a large button. My concealed button placket is slightly offset for a dual effect: classic yet modern.
Occasions: As a shirt tucked at the waist for a classic and graceful look, I am perfect for the office. In a thicker fabric in the longer version, I will warm you all winter long.
WHAT'S FOR MEN
Our 4 menswear sewing patterns are perfect this autumn. Discover our couple's duos for matchy-matchy outfits. Whether it's for your dad, your partner, your son or your friend, start sewing for them now with our PDF patterns.