Description
I AM Modern is a bundle of 2 sewing patterns: the I AM Libellule shirt, jacket and dress and the I AM Mimosa cape.
The file contains both digital sewing patterns in pdf format along with a step by step illustrated explanation guide for each.
Digital pattern formats:
A4 and US Letter – print at home
A0 file (aka: copyshop, printshop, wide files) – print at a copy shop
All seam allowances are included in the patterns.
The different pieces don't overlap with each other. Once printed and assembled, simply cut the pattern at your size and start sewing.
The file will be emailed to you upon payment. You will also be able to access the file anytime on your iampatterns.fr account.
Size 36 to 46. See sizing guide below.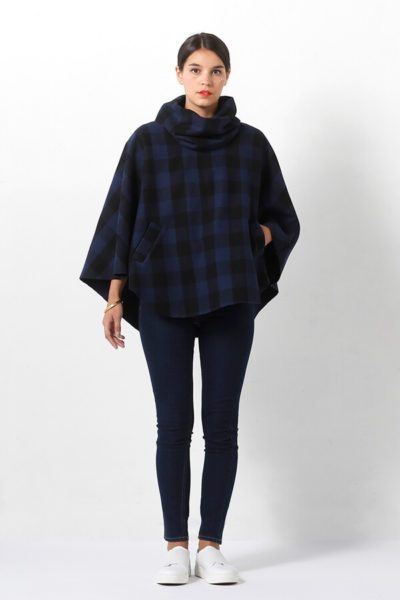 I AM MIMOSA
LEVEL: SIMPLE
Sous le ciel étoilé, je vous protège du froid. Mon grand col et mes poches sont les détails d'un look moderne. J'aime vous accompagner aussi bien en ville qu'à la campagne.
RECOMMENDED FABRICS:
Woollen fabrics : Felted wool, reefer, broadcloth, bouclé fabrics, flannel…
So it is easier, we recommend to beginners to use non fraying fabric.
Collar lining : Cotton, Crêpe… (Optional)
FABRIC REQUIREMENTS:
Garment: 2 1/4 yards in 55'' wide
Collar lining: 1/2 yard in 35″ wide (Optional)
SUPPLIES:
Fabric
Collar lining (Optional)
3 1/2 yard of 5/8″ wide bias tape to finish unravelled edges (Optional)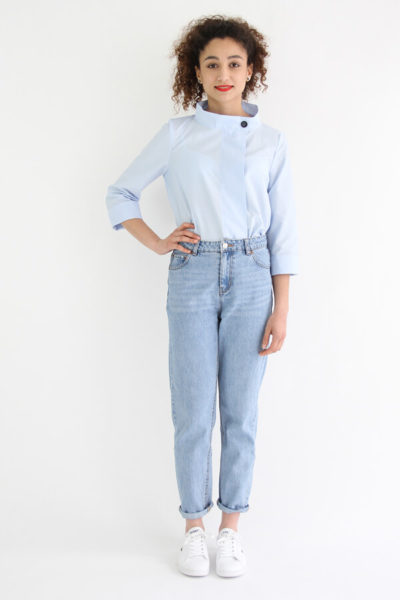 I AM LIBELLULE
LEVEL: INTERMEDIATE
I am a dress or a shirt if sewn at your normal size and I can also be a long or short jacket if you sew me a size up. I have a flared shape, a straight collar closing with a large button. My concealed button placket is slightly offset for a dual effect: classic yet modern.
RECOMMENDED FABRICS:
Shirt and dress: Poplin, crepe, chambray, thin denim, thin milleraies velvet, wax, flannel, washed linen, viscose, double gauze, and much more
Jacket: thin denim, gabardine, cotton canvas, jacquard, thin woollen fabric
FABRIC REQUIREMENTS:
Shirt and short jacket: 2 3/16 yard by 55" wide
Dress and long jacket: 2 7/8 yard by 55" wide
MATERIALS NEEDED:
Fabric
All versions: 1 button of 1 3/8″ (3.5 cm) diameter
Shirt and short jacket: 7 buttons of 1/2″ (1.2 cm) diameter
Dress and long jacket: 10 buttons of 1/2″ (1.2 cm) diameter