Dreams of Africa
Discover I AM IN AFRICA the new capsule collection by I AM Patterns. With its, motifs, wax fabrics, colours, Africa is making us dream this summer. Discover the new patterns: Celeste, Jain and Joy, as well as some of our favorites which we've revisited for the occasion.
JAIN
My apparent simplicity disguise a light-hearted and amusing side. I am both a top or a dress. I have batwing sleeves with a diagonal cutout for a raglan effect. My sleeves can be short, or long with elasticated cuffs. My slit in front accentuates my feminine side.
I AM CELESTE
I am the perfect dress to accompany you on the glorious, sunny days. My back is a love talisman. When you look at me from the front, I give the impression of being in the shape of a heart. It becomes reality when I reveal my back and you can admire a cut-out, stylised heart. My flared shape and my godets make me easy to wear.
CASSIOPEE
I am easy to wear. Any fabric suits me and you can reinvent me ad infinitum to match your every mood. You and me together we will dazzle everyone like two shooting stars lighting up the sky. You can now sew Cassiopée with short sleeves easily by downloading the free pdf pattern add-on on the site.
HESTIA
I am Hestia, a stylish and simple pleated skirt. A date, an afternoon at the beach or even at the office, I am ideal in any occasion.
I AM ARTEMIS
I am the perfect coat. I am cosy and sophisticated. Wrap me around you, I will warm you in my arms and pamper you all anytime.
Discover the complimentary extension to line your I AM Artemis jacket. Available to download for free now.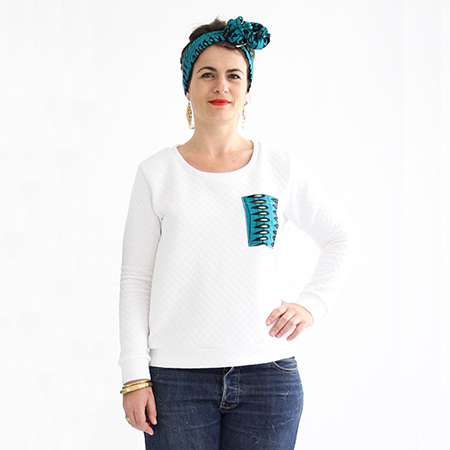 I AM APOLLON
Feminine version of the classic sweatshirt, I am also a jersey dress. Ambiguous, I am three things at once: elegant, sober and sporty. I am your everyday accomplice.You can wear me in two different ways: as a dress or a classic sweatshirt.
I AM HERMES
I am a chic and classic shirt. I don't need to be introduced as you've known me for a while and love all aspects of my style. In an ultra long shirt dress, I will accompany you everywhere.
One shirt, three different styles: a dress, a tunic and a classic shirt.
I AM JOY
I am Joy incarnated. My enthusiasm delights as much as my sensuality. I am a seemingly simple top but my 3/4 sleeves finished with an elastic band and my ruffled sleeves give me an audacious and delicate note.