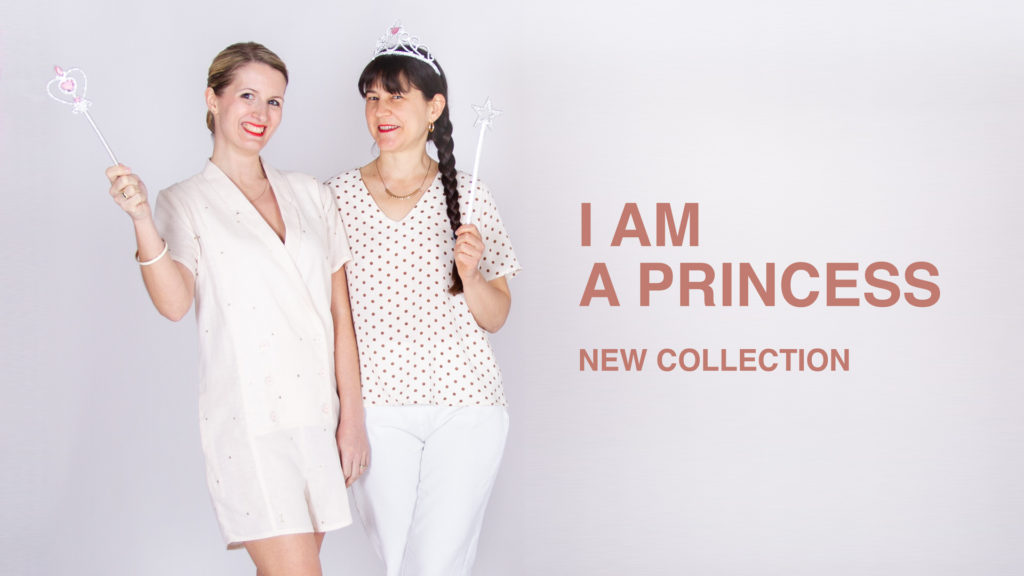 For more than a year now, life has kept us recluse in our castles. With or without prince(ss) charming. With or without kids. With or without company. A very strange period when each of us, individually, was able to introspect and bring to light what is going really well in our life, or on the contrary, what is not going so well and would be good to change. Like those four great princesses, it's time to reclaim your castle, your inner self, to live life at its fullest and fully express who you are. Scheherazade did it with kindness and spirit, Diana with compassion, Cleopatra by force. And Cinderella, symbol of the initiatory journey, invites us to a joyous transformation. It's up to you to choose which trait to use to live life as a princess: full, happy and joyful.
I AM CLEOPATRE
I am Cleopatre, a pleated dress and top. I am very comfortable to wear thanks to the pleated fabric which gives me a lot of ease. My neckline is inspired by Cleopatra's neck pieces. The pleated fabric delicately swings from my neckline and I feature American armholes. I am both very chic and extremely comfortable.
---
I AM CINDERELLA
This pattern was designed in collaboration with Cindy from @ledressingdecindy during her participation in the pattern making training taught by Marie-Emilienne, our designer. They have worked together to offer a simple pattern, with multiple variations and accessible to beginners.
I AM Cinderella features 2 lengths and 4 sleeve finishes and is loose fitting which makes it very comfortable. What's more, it is as easy to make as it is to wear. The blouses will be perfect for the office. Add a belt and wear it on a night out with your girlfriends or on a date. And the sleeveless versions really calls for a sunny holidays.
---
I AM DIANA
I am Diana, a playsuit or a pleated dress. You can make me with short sleeves or sleeveless. In each of my versions, I feature a shawl collar and a double-breasted closure that finishes at the small hips. Depending on the fabrics used I can follow you on relaxed outings or dressed up parties.
---
I AM SHERAZADE
I am Shérazade, a dress for warm sunny days. I have a V-neckline on the front and at the back, as well as oblique seams to assemble the skirt to the bodice. All those details give me a very graphic feel. I have short sleeves and in-seam pockets on the skirt. I am so comfortable, I will be your ally all summer long.
---
THE COMPLETE COLLECTION
Be the princess you've always wanted to be with Diana, Cléopâtre, Shérazade et Cinderella. Discover the I AM A Princess bundle collection in PDF now.
---
Credits
Models: Naoël, (@la_meuf_qui_coud on Instagram) and Cindy (@ledressingdecindy)
Photographer: Marion Laveau, Naoël, follow her on Instagram @marionlaveauphotographe
Fabrics : Atelier Brunette, Eglantine Et Zoé, Fabric Godmother, Little Fabrics, Meter Meter, Pretty Mercerie, Stragier, Un Chat Sur Un Fil.