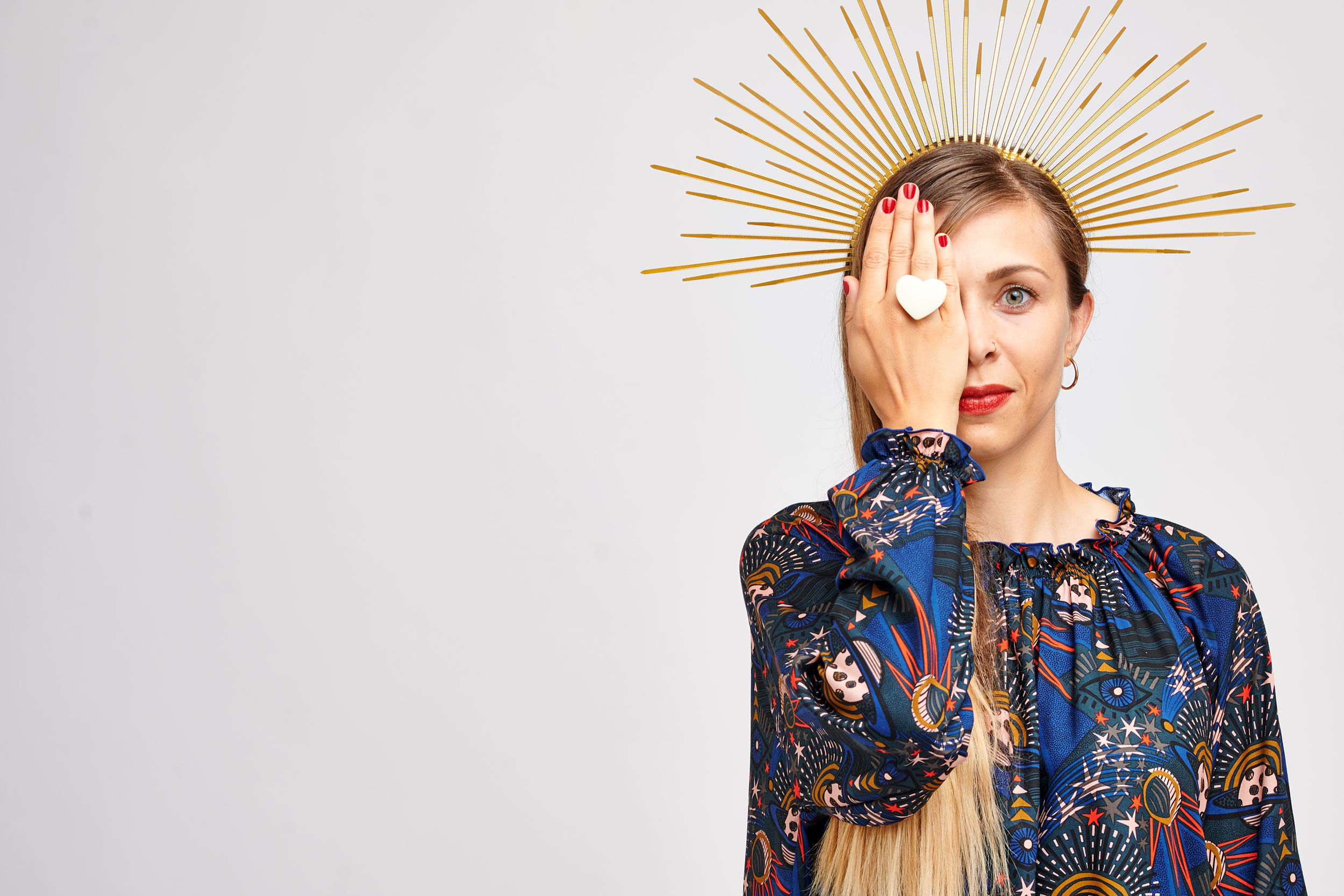 I AM DIVINE
I am divine. We are all from the same creation, one that cannot be named. It brings us to life, a divine force that pushes us to evolve.
This same force transforms seed to plant, plant to flower, flower to hundreds of seeds again. We, humans, are part of this nature. A part of the divine, of the intangible, lives in us, helping us to grow like nature.
The I AM DIVINE collection is an opportunity to explore our part of divinity. And so, with Hathor, Hesat, Rê and Nout, let's go in search of the freedom of our hearts and discover the path that enables us to bloom.
---
I AM RÊ
I am Rê, the sun god and creator of the universe and the source of life. With me, your creative powers are limitless. Have fun creating your world, moving from dreams to reality. Wear me, and bring everything you want to life.
I am Rê, a classic duffle coat. I am an iconic, timeless garment loaded with the elements and details of the original Montgomery coat: toggle closures, a 3-piece hood with button tab, a shoulder yoke, two large patch pockets with flaps, a two-piece sleeve and a tightening tab. I have a straight cut but still feel fitted. I have 2 length options: hip and mid-thigh. I am a classic garment that will delight all sewists looking to create a long-lasting wardrobe.
---
I AM NOUT
I am Nout, the celestial goddess, mother of all stars. Wear me and together we will experience the secrets of the gods, their serenity and their virtues. With me, life is a bed of roses and our hearts will beat to the rhythm of life.
I am Nout, a pair of sailor trousers, a classic garment to slip into your forever-wardrobe. I am an ankle length tapered trouser. I have a buttoned front flap closure paired with some classic jeans-style details and finishes: patch pockets at the back, a waistband and contrasting colour topstitching.
---
I AM HESAT
I am Hesat, the goddess of food and abundance. With me, you will want for nothing. Let me show you how to let go and embrace the richness of life. Wear me anywhere and be taken aback by my generosity.
I am Hesat, a voluminous blouse that can also be made into a dress with in-seam pockets. With my two sleeve lengths (long and short) and two garment length options, you can make me into 4 different versions. Excess fabric shirred at the neckline gives me a lot of ease, making me very comfortable. My long sleeves are also fitted at the wrist with shirring. With a 70s feel as a blouse, and a baby-doll style as a dress, I will easily find a place in your wardrobe. Beginners will love me as I am perfect for sewing your first garment. As for those more experienced, they will love how quickly I come together.
---
I AM HATHOR
I am Hathor, the goddess of love, beauty, music, motherhood and joy. With me, everything is wonderful. Life is a beautiful dance where wonder, bliss and eternity intertwine. Wear me to enter the cycle of renewal, and realise your dreams.
I am Hathor, a timeless sleeveless vest with 18 versions to choose from. Combine one of my three neckline options, three pocket options, and two closure methods to make the perfect gilet to fit your needs. I am fully lined and fasten with either press studs or a zip. I have a choice of a simple rounded neckline, a stand-up collar or a hood. I can be sewn with patch pockets, welt pockets or without pockets. I am the perfect sleeveless jacket to slip under a coat in very cold weather, as a mid-season jacket, or as a casual throw-on for cool summer evenings. Depending on fabric used, I can accompany you to town, on your rural walks, and keep you warm on your run. In short, I am perfect for all seasons, and fit into a long-lasting wardrobe.
---
The collection bundle
Hathor, Hesat, Rê and Nout are timeless makes which you can can pair with one another. They will easily find their place in your forever-wardrobe. Check out our I AM Divine PDF bundle to complete your winter wardrobe.
---