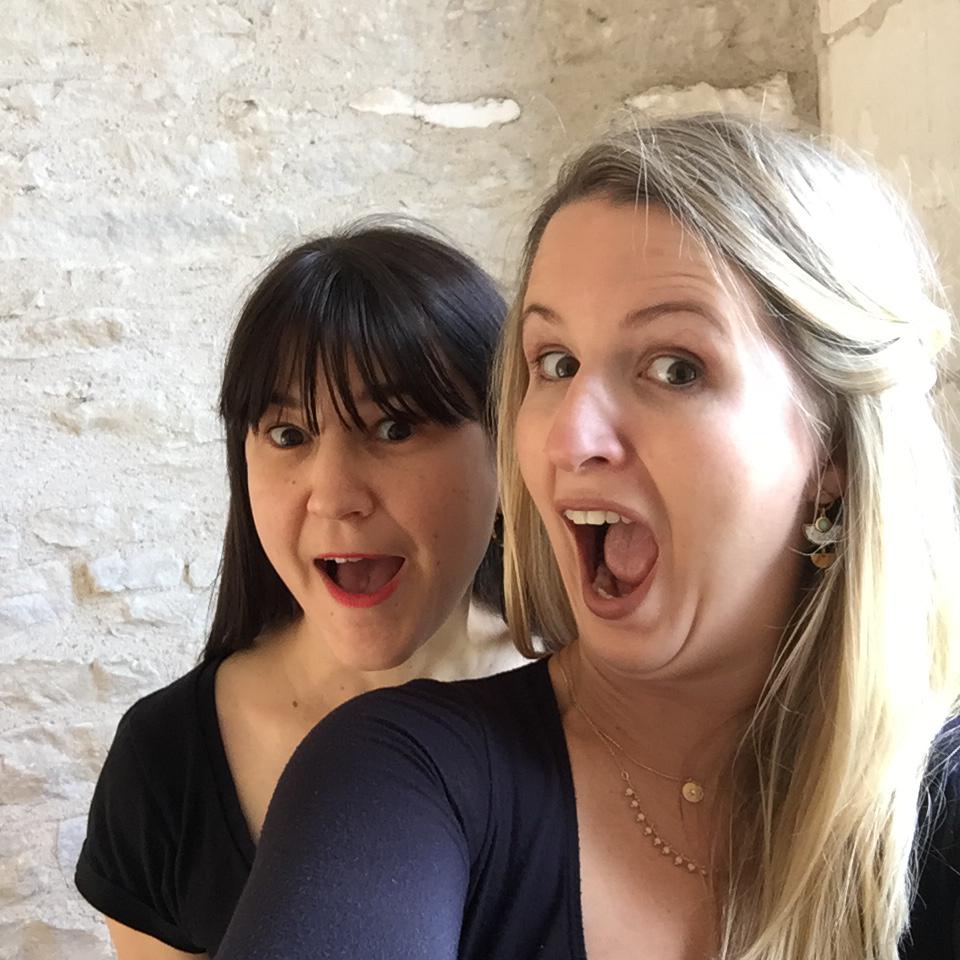 Read all about the collaboration between I AM Patterns and Le Dressing De Cindy. Between Cindy of @ledressingdecindy and Marie-Emilienne, our designer and founder, it was laughs at first sight. Discover more about the process of creating a pattern, the inspiration behind the I AM Cindy skirt and why they decided to gift the I AM Chantal sewing pattern to complete the outfit. In summary, we talked pattern drafting, inspiration and sewing…
How did you meet?
Cindy: I met Marie-Emilienne at the CSF fair, a short brunette with a sailor shirt and a long plait! A mix between Pocahontas, Snow White and Jean-Paul Gautier!
We got a long straight away. I said, my name is Marie-Chantal (quite a posh name in France) without knowing that her first name even more posh. I felt so alone after this stupid joke. And I still had to tell her my name…
Marie- Emilienne: So at some point she said: "I'm just kidding, my name is Cindy and I was a finalist of the French Sewing Bee. Haaaaa… I was ashamed myself. Everyone in the sewing community knew who she was but me… I don't own a television. We laughed and she told me she didn't have a television either.
What can you tell us on your friendship?
In Noyers, Burgundy the day before the pattern drafting course started
Cindy: We have a real strong friendship based on joy, cheerfulness, humour and sharing! 
We got a long straight away. She is my confidante. We can talk about everything with ease and without taboos. That's what you do with friends, don't you think? And Marie-Emilienne is a great friend.
Marie-Emilienne: I love our friendship which started with a joke and that got stronger over the years. We are confidantes and we trust each other. I like her honesty and her joie-de-vivre.
How would you describe each other?
Marie-Emilienne: Cindy is very generous, and very wise (yes, definitely wise). Behind her persona of a blond bimbo from the South of France, hides a great person. Sensitive, joyful and whom is always happy to help. For me that's a sign of wisdom.
Cindy: Marie-Emilienne, I found her honest, patient, fun, and mysterious all at once… She makes me think of a real artist in her own little bubble, her own style and her own way of thinking. She is honest and very direct and with a big heart. I feel privileged to consider her my friend. 
Cindy, why did you want to participate in the pattern-drafting course Marie-Emilienne proposes?
Cindy: Pattern-drafting became a dream around 2 years ago! It's a sewist's dream to have a garment in mind and have the knowledge to make it come true. I also imagine my daughters (I am lucky enough to have 3) when they'll be in high school showing me dresses in magazines and asking me to make it for them. And why not one day, sew the wedding dresses of their dreams…
Marie-Emilienne: When Cindy told me that she wanted to take part in the pattern-making course I was really happy. I knew she would be talented and that we would laugh a lot and spend a great 2 weeks together. Knowing how crazy she can be sometimes, ahead of the course, I told her a few times that the lessons were very serious, that the aim is for everyone to learn pattern-drafting. She told me: "I promise, I'll behave". And she did behave (at least when I was there)…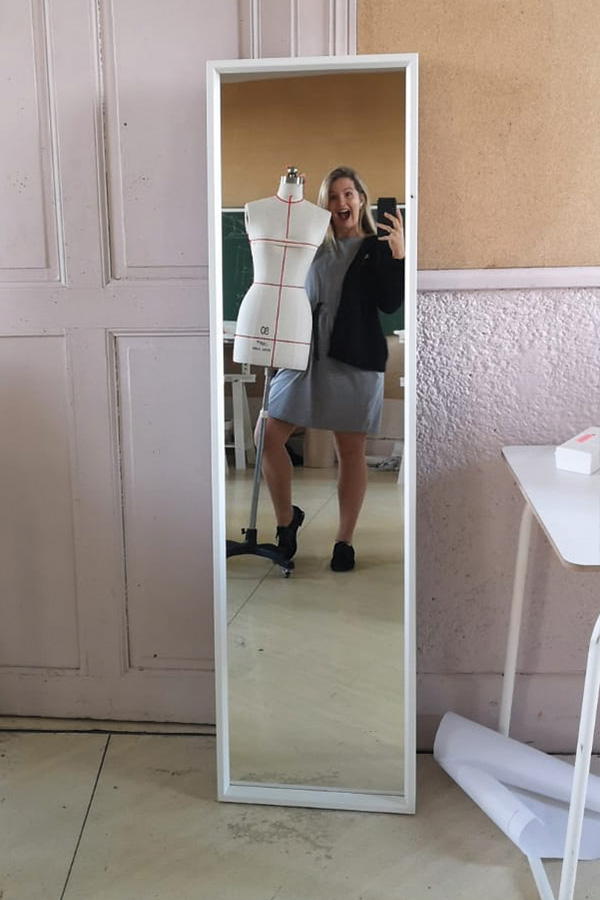 Cindy playing with the mannequin after the morning lesson…
What push you to sign up to do the pattern-making course?
Cindy: At first I was really afraid of not being able to do it !!!  I am terrible at drawing (even a first grader has more talent than me)! So I thought that creating a pattern from a blank sheet of paper, a pencil, a ruler and tape measurer was "Mission: Impossible" (without Tom Cruise). 
But as Marie-Emilienne went along with her step-by-step method everything became quite clear. I found it crazy that I could understand how to create a pattern! Just like that, I smiled and I thought to myself, that's ok, I can do this!
Cindy, where did you take the inspiration for your skirt?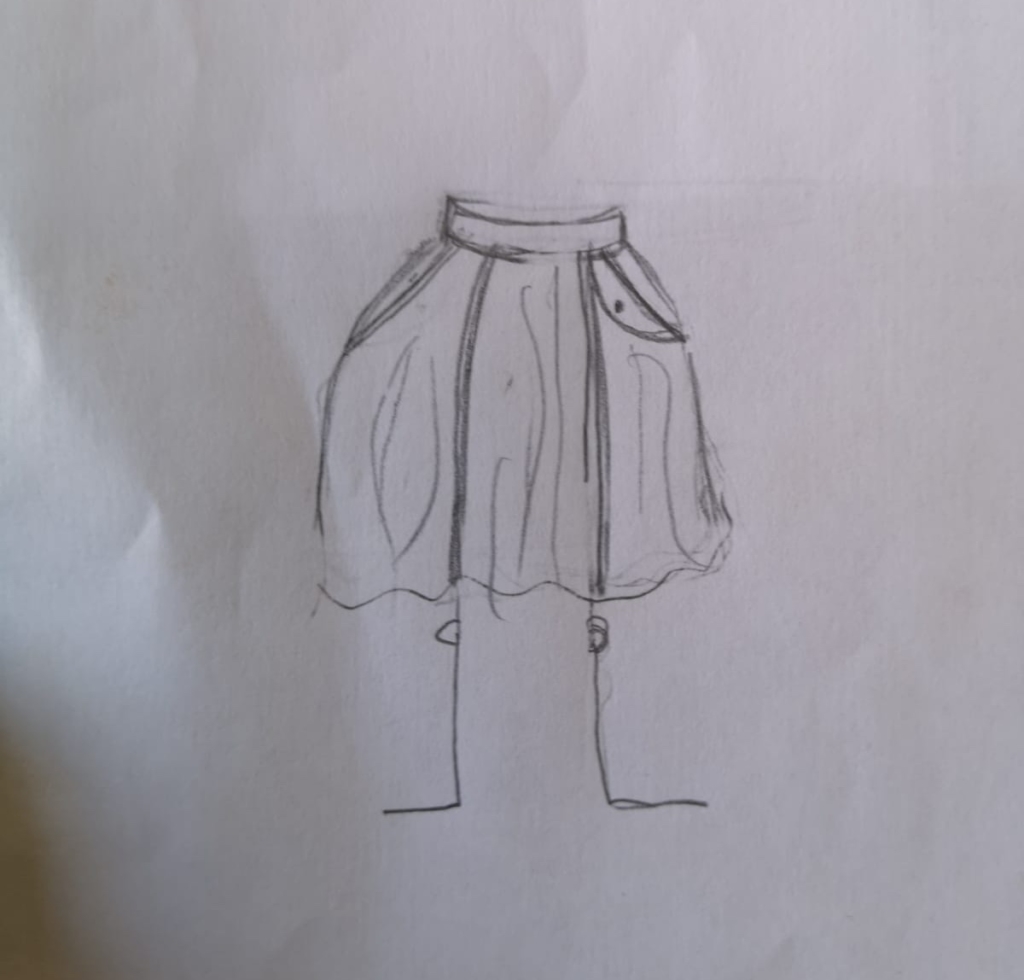 Cindy: I knew what kind of skirt I wanted to do. It was very clear in my head but my drawing was simply terrible. Thankfully it's easier to draft a pattern than to draw….
When I was little girl the only criteria when buying a skirt was so that when I would swirl and swirl and swirl, my panties would be showing. With age, that criteria stayed the same. I love the movement of the skater skirts. They're very stylish but too often they are too formal.
The main criteria: to see the panties when she swirls
I wanted a skirt that would be easy to wear everyday. Being a mum and not liking purses too lunch I wanted pockets that would be practical but also a style statement too… I love the result. And I can't believe I did it in less than 1 week's time.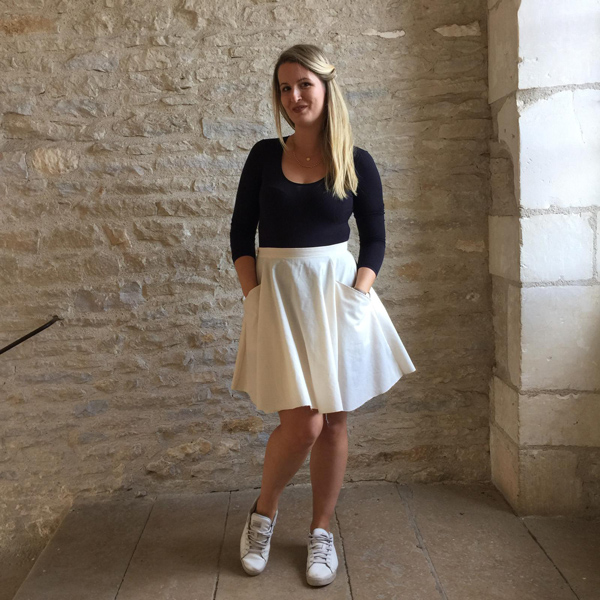 The toile fitting with Marie-Emilienne
What was the inspiration behind the I AM Chantal pattern?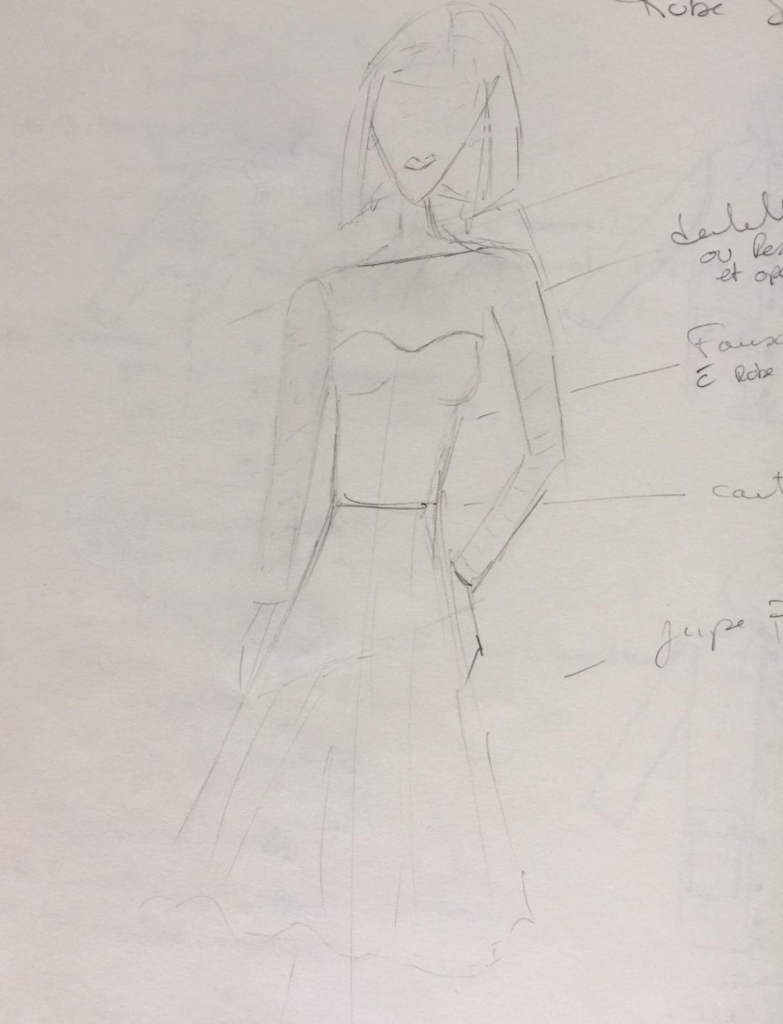 When Cindy took part in the pattern-drafting course that I AM Patterns proposes in a lovely village of Burgundy, the idea at first was to only launch the skirt she will design. But once I saw her drawing for the skirt she wanted to make, I went straight to my notebook and opened it to the page where I had drawn the dress I would have liked to launch for the festive season. She drew a skater skirt and I had drawn a slim fitting dress with a skater skirt.
We were on the same page. I then offered to create a bodysuit to go with her skirt. She wanted a slim fitting ¾ sleeve bodysuit with a scoop neck and I wanted a relaxed bodysuit (to give a t-shirt effect), long sleeves and boat neckline. I had to find a solution so it would please everyone.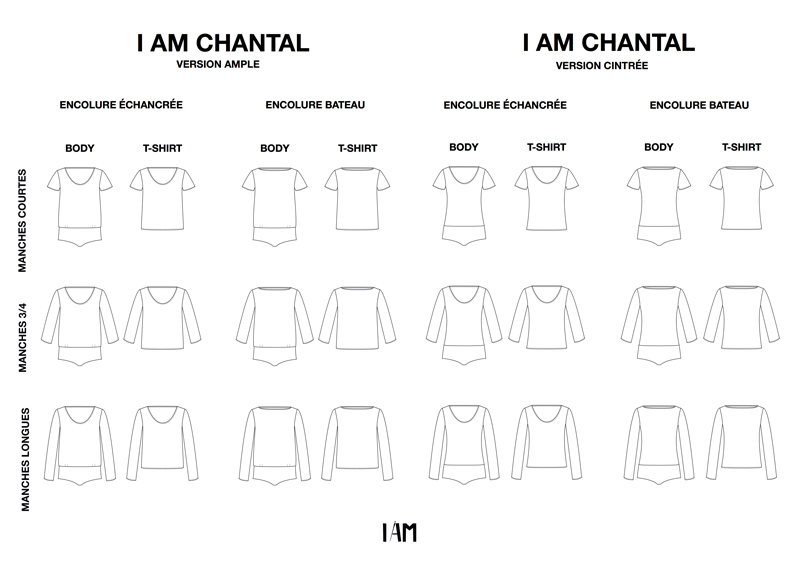 The 24 versions of Chantal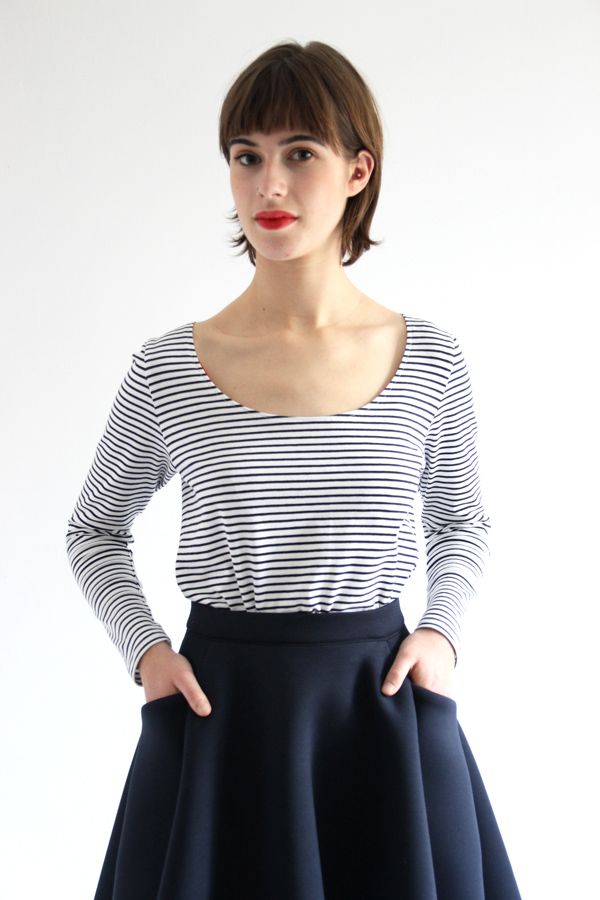 Long sleeve relaxed fit bodysuit with scoop neck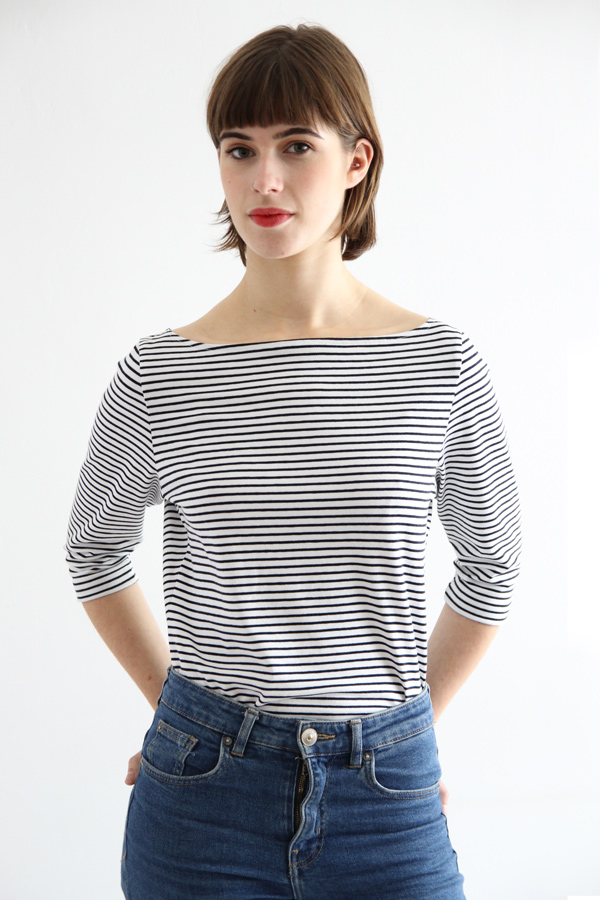 3/4 sleeve relaxed fit bodysuit with boat neck
Can you describe the stages of drafting the pattern?
Cindy: Creating my own skirt was a challenge I had to win. Marie Emilienne had given us all the keys to do it ourselves, it was my time to shine! 
I started from my skirt block pattern but I wanted a skirt that twirled. I started by evaluating the amplitude I wanted to have at the bottom of the skirt to calculate the size of the godets I needed to insert. I had never made a toile (ohlala, I know it's bad but I'm sure I'm not the only one). But when you draft your own patterns you have to make a toile to evaluate what you need to amend to make it better. So after making a first toile of this godet skirt I started marking directly on the skirt where to place the pockets. I then amended my pattern to make another toile. And at the 3rd toile I had the skirt of my dreams. You can't imagine how lovely the feeling is!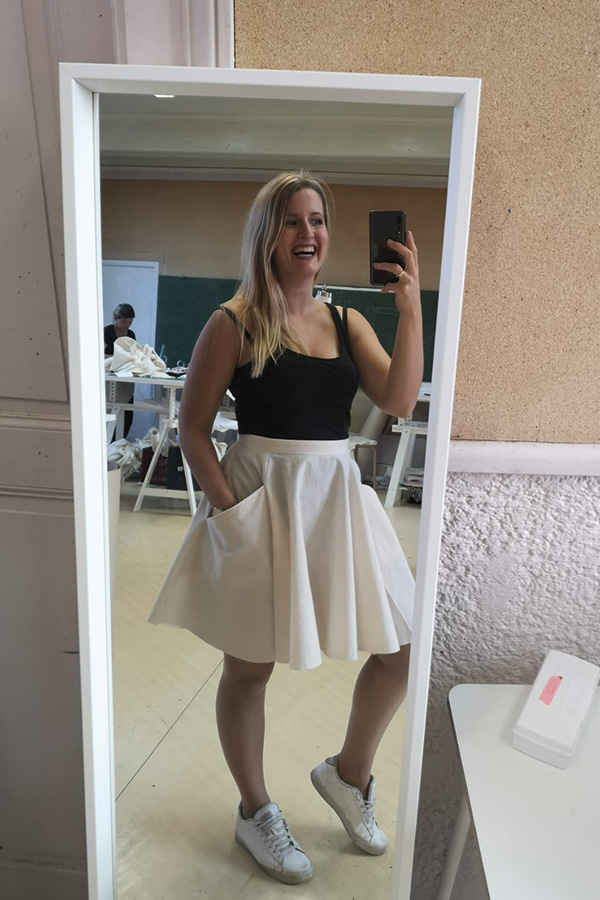 Cindy's last muslin
How do you find the end result?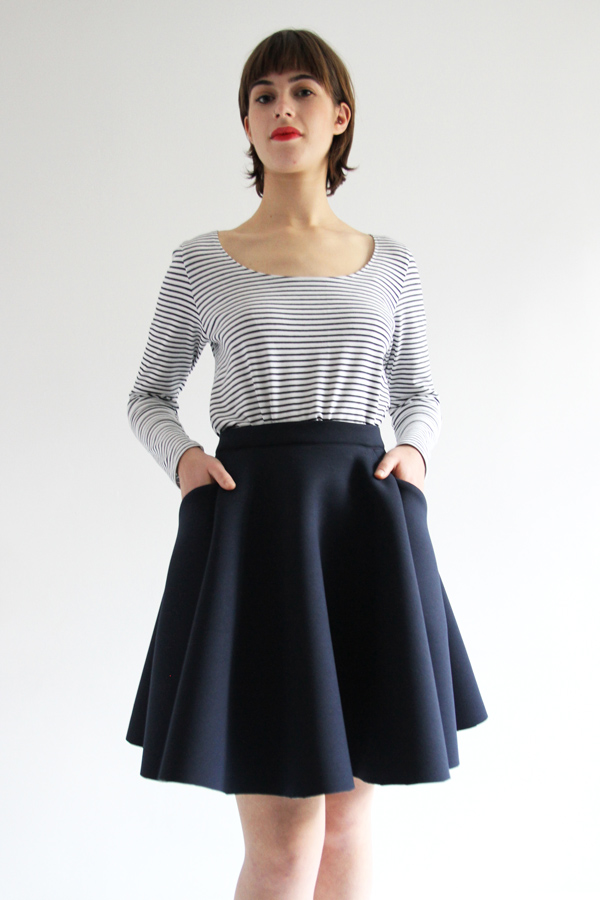 Cindy: I love it! It's exactly what I had in mind. It's so gratifying and exciting. It's plain happiness. It's my baby and I'm so proud to be proposing the pattern with I AM Patterns.
Marie-Emilienne: I looooooooove Cindy's skirt.  I find her trendy and timeless at the same time. And you can play with the material you use to sew it to make different effects.
As for the CHANTAL bodysuit, it's a basics you need to have in your wardrobe. I really like the fact that is has separate panties especially when sewn with separate panties.
I love that each of those 2 patterns can be sewn very quickly and that they also are available for beginner sewists. Everyone can make sew and wear them easily.
And if you had to do it again?
Cindy: I'll do it with my eyes closed. I loved every moments of it. It's like being at camp but a camp where you can talk and dream sewing all day long.
Marie-Emilienne: I am looking forward to having Cindy back for the second session of the pattern-drafting courses and for new adventures.