One gift, 24 versions.
I AM Chantal is the 24-version sewing pattern gifted with the I AM CINDY skirt, which was done in collaboration with @ledressingdecindy.
The fact that you can sew it in 24 different versions gives you the occasion to sew it for each season and every mood. To have a closer look at the versions, download the technical drawings. Discover this versatile pattern and treat yourself to the I AM CHANTAL & CINDY duo.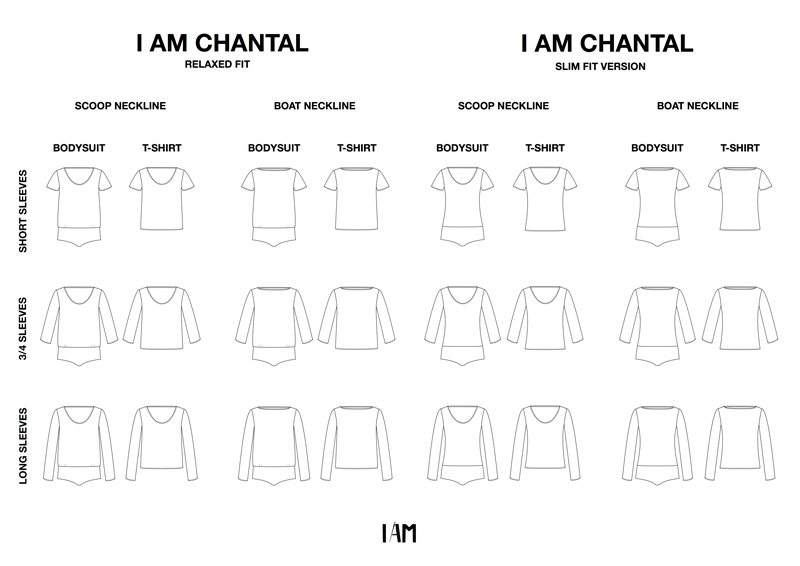 The idea behind I AM Chantal
When Cindy took part in the pattern drafting course that I AM Patterns proposes in a lovely village of Burgundy, the idea at first was to only launch the skirt she will design.
But once I saw her drawing for the skirt she wanted to make, I went straight to my notebook and opened it to the page where I had drawn the dress I would have liked to launch for the festive season. She drew a skater skirt and I had drawn a slim fitting dress with a skater skirt.
We were on the same page. I then offered to create a bodysuit to go with her skirt. She wanted a slim fitting ¾ sleeve bodysuit with a scoop neck and I wanted a relaxed bodysuit (to give a t-shirt effect), long sleeves and boat neckline. I had to find a solution so it would please everyone.
That's how I AM CHANTAL, which should have been a dress for the festive season became a bodysuit that could be made in 24 different versions. Moreover, I AM CHANTAL is gifted as a pdf with the sewing pattern of the I AM CINDY skirt and this offer is only available on iampatterns.fr for paper or pdf patterns.
You can even create another 6 versions…
I really like the fact that the I AM CHANTAL bodysuit has separate panties. It gives a lovely look when made in contrasted fabrics. But if you would like to create a classic slim fit bodysuit in one piece, you just need to superimpose the front panties by 3/16'' over the front bodice and tape them together. Repeat for the back pieces. Finally, you just need to cut the assembled front and the assembled back in your chosen fabric. How simple is it?