We love a sweatshirt. We've designed a few over the years (Rainbow, Apollon, Apollon pour hommes, Zèbre, Lion, Patricia…) and sewn even more of them…
One of the advantages of sewing your own clothes is that you can make them unique. We adapt the garment to fit our taste, personality or even morphology.
In the past years we've seen quite a few I AM sweatshirts on social media. All different, all beautiful. Some have even made alterations to the original patterns and added some extra details. We have selected 10 ideas to inspire you to do the same.
1. Colour blocking
Colour block sweatshirts are everywhere at the moment. And contrary to what one might think it's easy to alter the pattern and create your own design. If you are up for it, we have created a tutorial to show you step by step how to do this and create your unique colour block sweatshirt.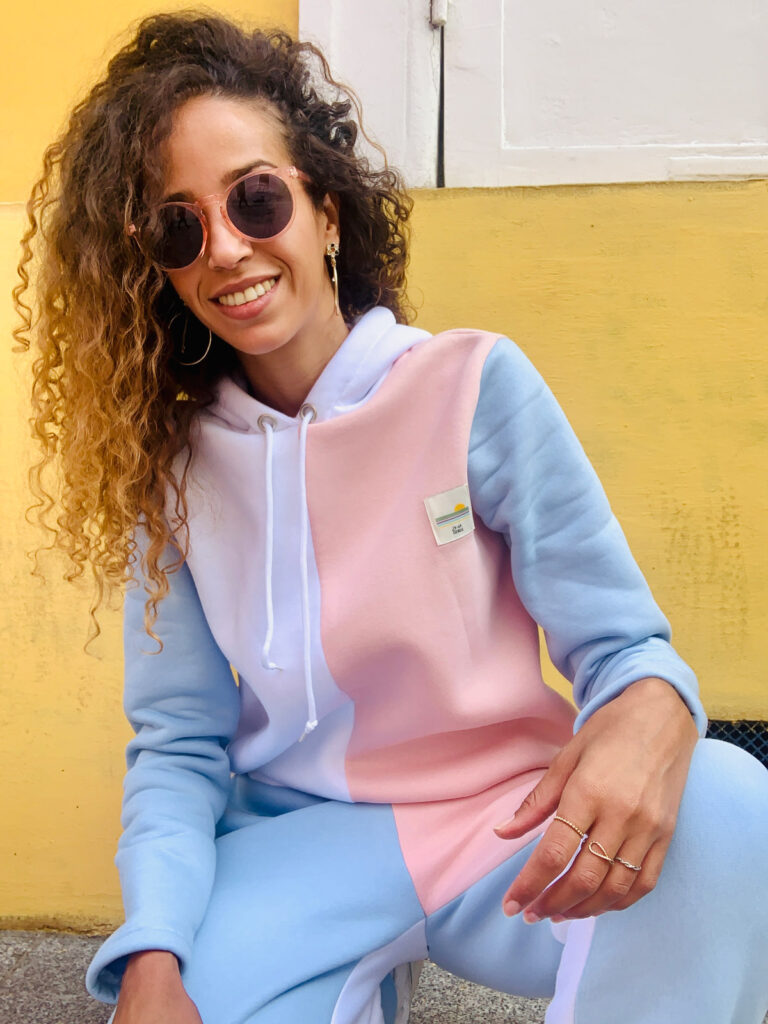 @kardamoon_creations her lovely colour block Rainbow sweatshirt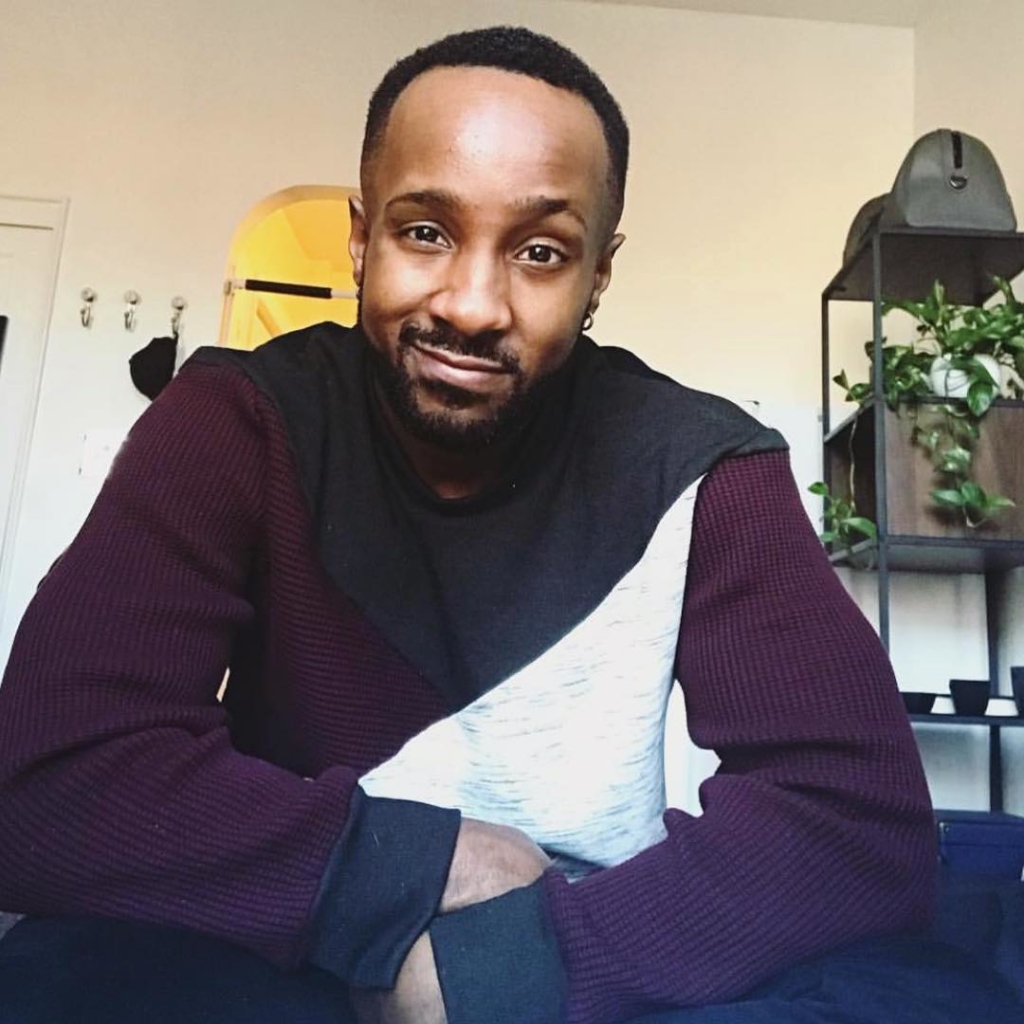 @theaccidentalsewist made this Apollon for Men sweatshirt for a colleague. How nice of her.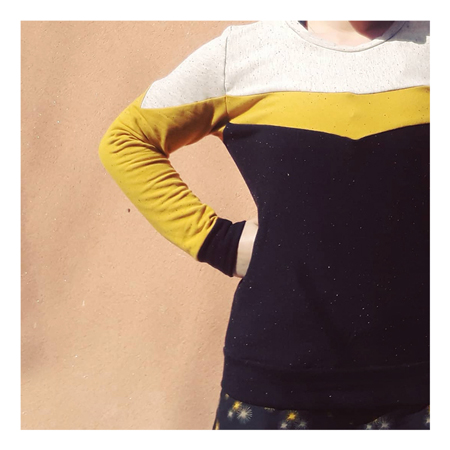 This is @clouyoute's Apollon sweatshirt which gave us the idea for a few years ago to create the tutorial.
2. Sew it in different fabrics
If you're uncomfortable playing with the original pattern, you can also create a graphic sweatshirt by sewing it in different fabrics. Here are a few example of our Rainbow pattern to inspire you.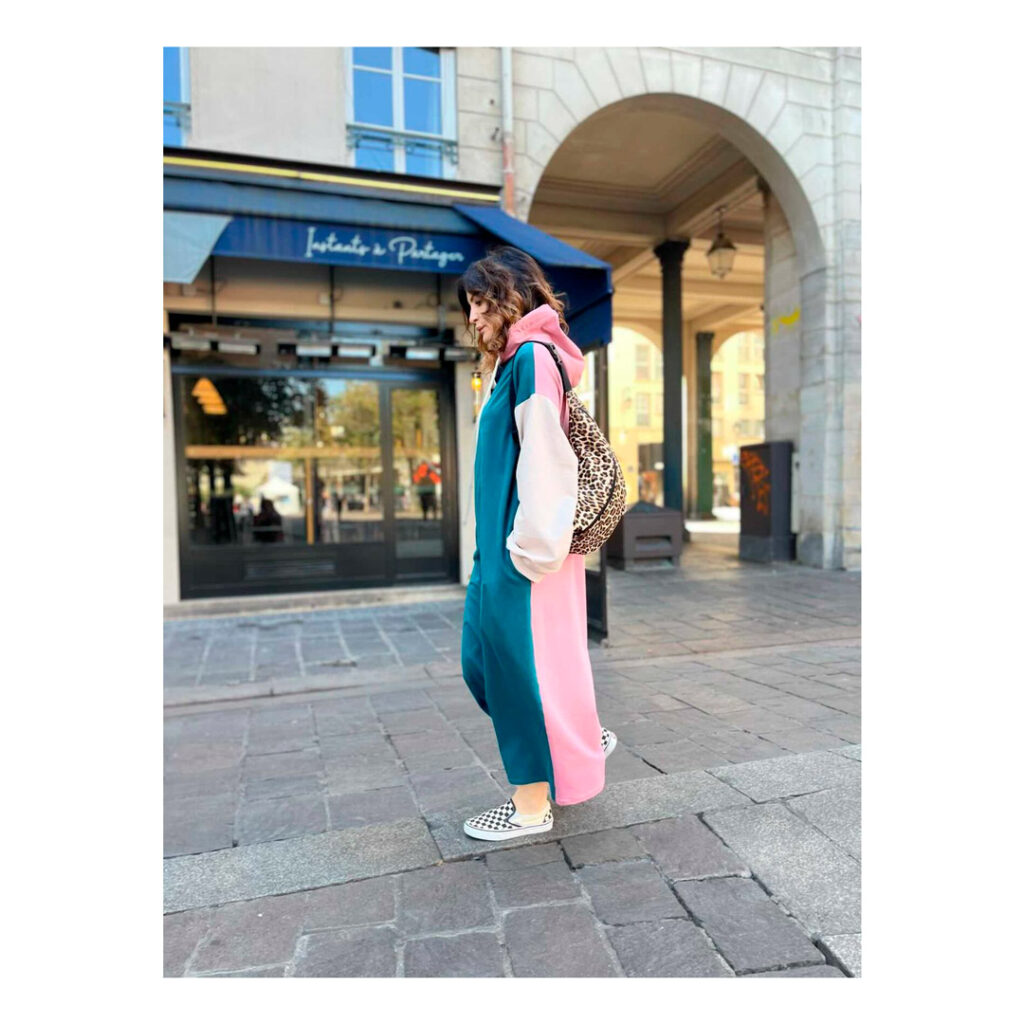 @ten_years_apart has made her Rainbow in 3 different fabrics and in size 52 for an oversized effect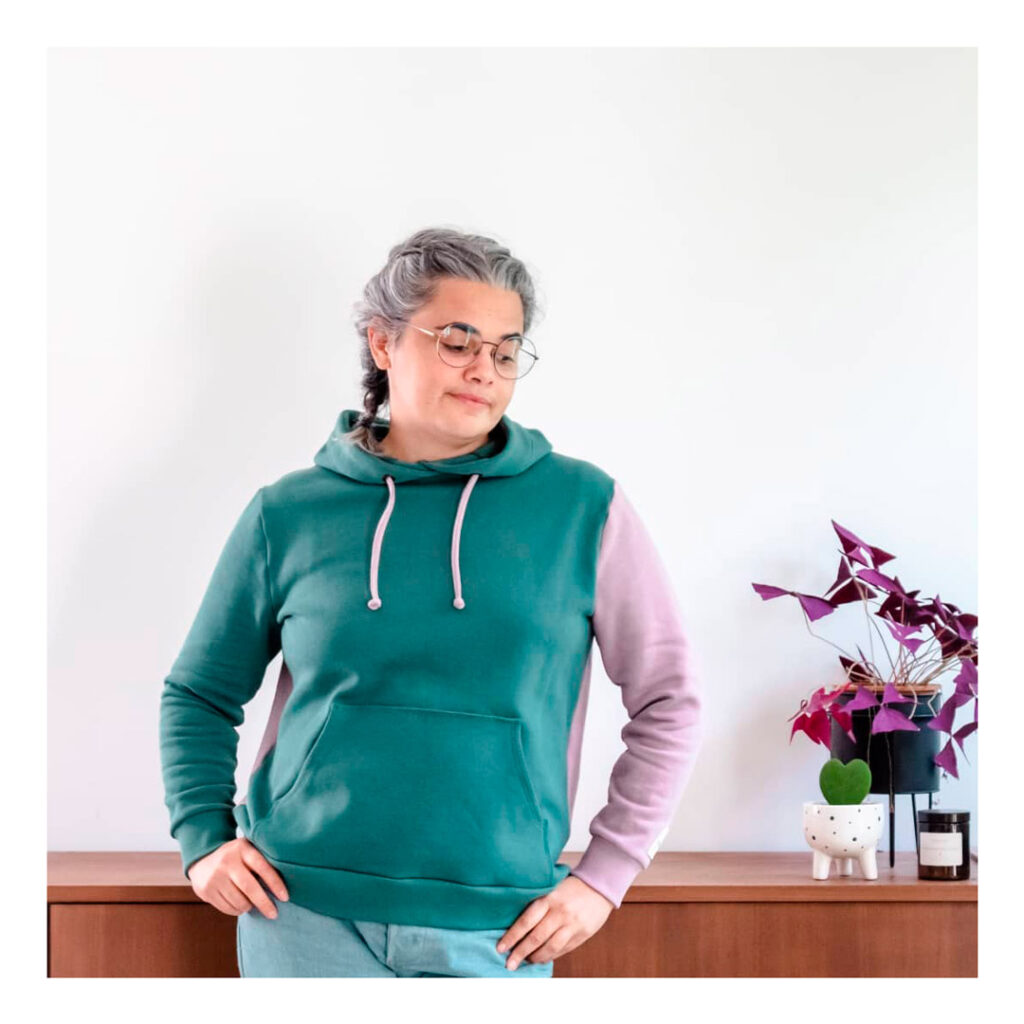 Recently, @hello_panache used 2 complementary colours to make her Rainbow sweatshirt.
3. Add a label
Another thing that is as popular as colour blocking nowadays is sewing labels. You can find lovely, fun or inspiring labels at  @kylieandthemachine and @lapetitemaisoncouture.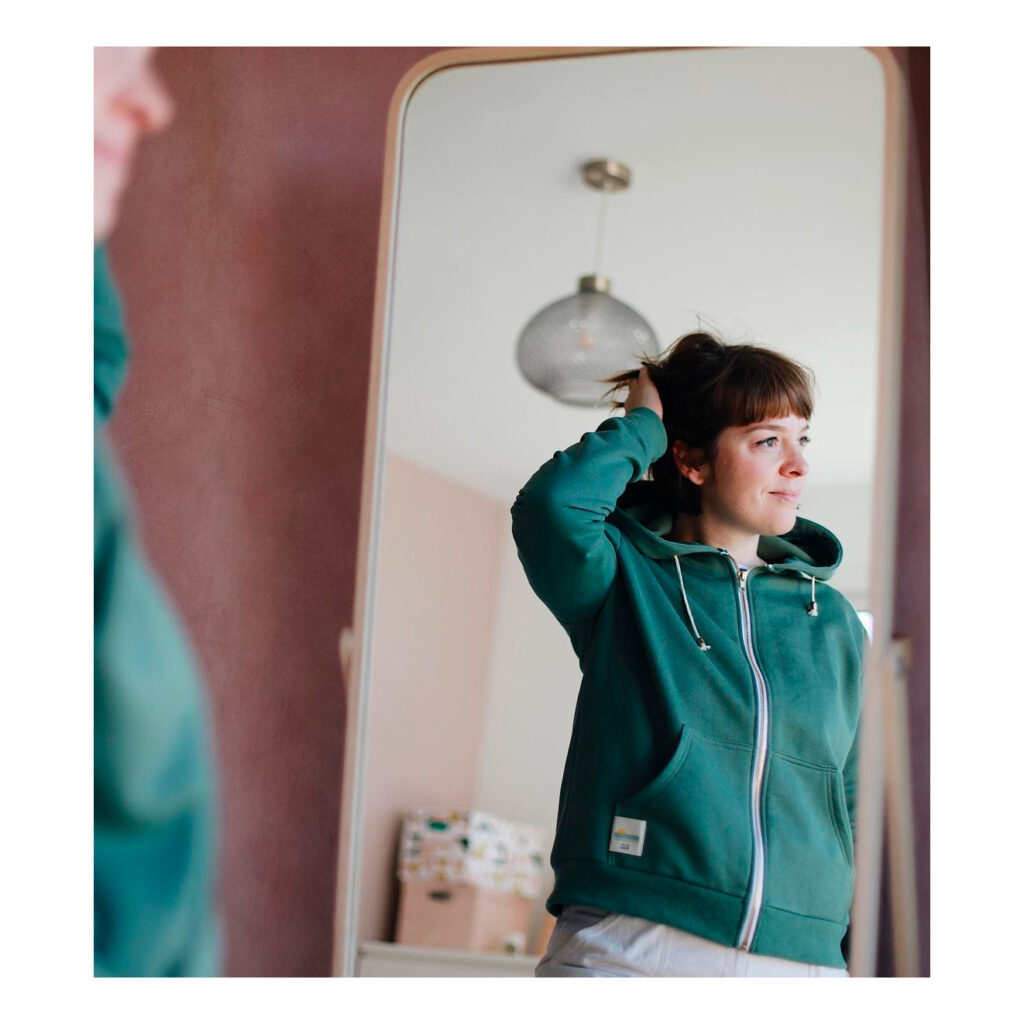 @la_grande_fabrique customised her Rainbow sweatshirt with a label from @lapetitemaisoncouture & @joliesbobines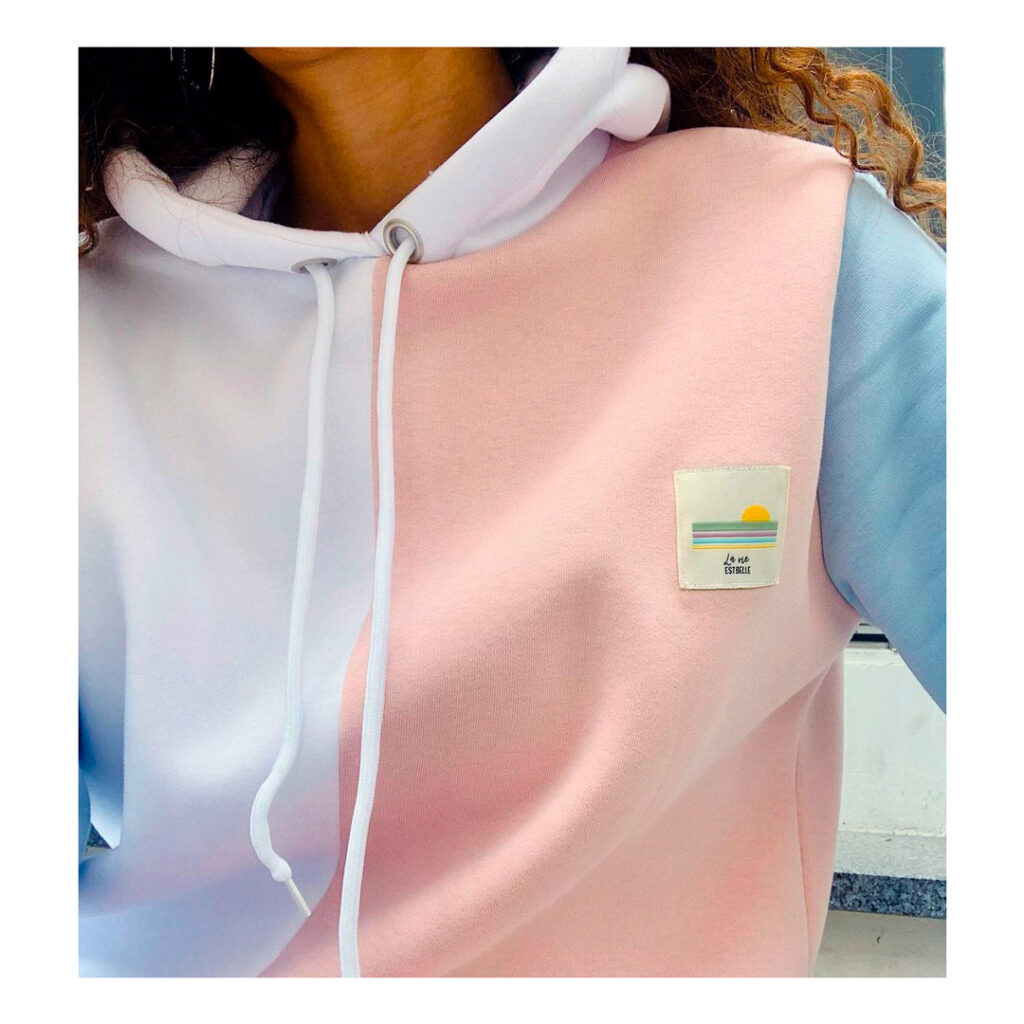 Zoom on @kardamoon_creations' Rainbow sweatshirt and her lovely label by @lapetitemaisoncouture & @joliesbobines
4. Embroider it
Of course, embroidering on jersey fabric is not the simplest but those 2 lovely examples should make you want to try.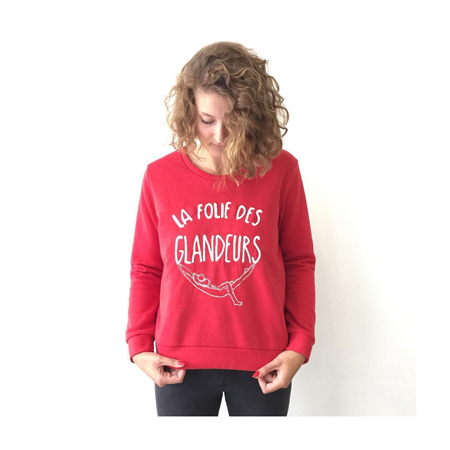 @armellerymd saw big with this amazing embroidery work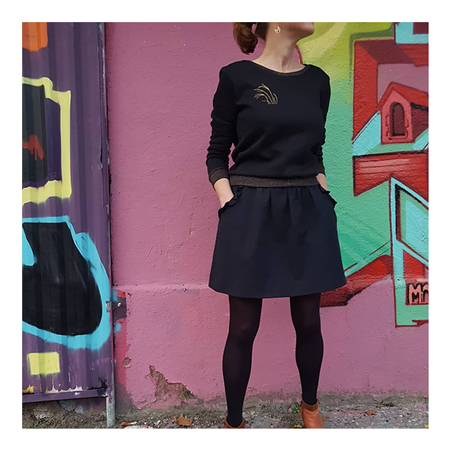 @yum007 has embroidered using golden threads on her black sweatshirt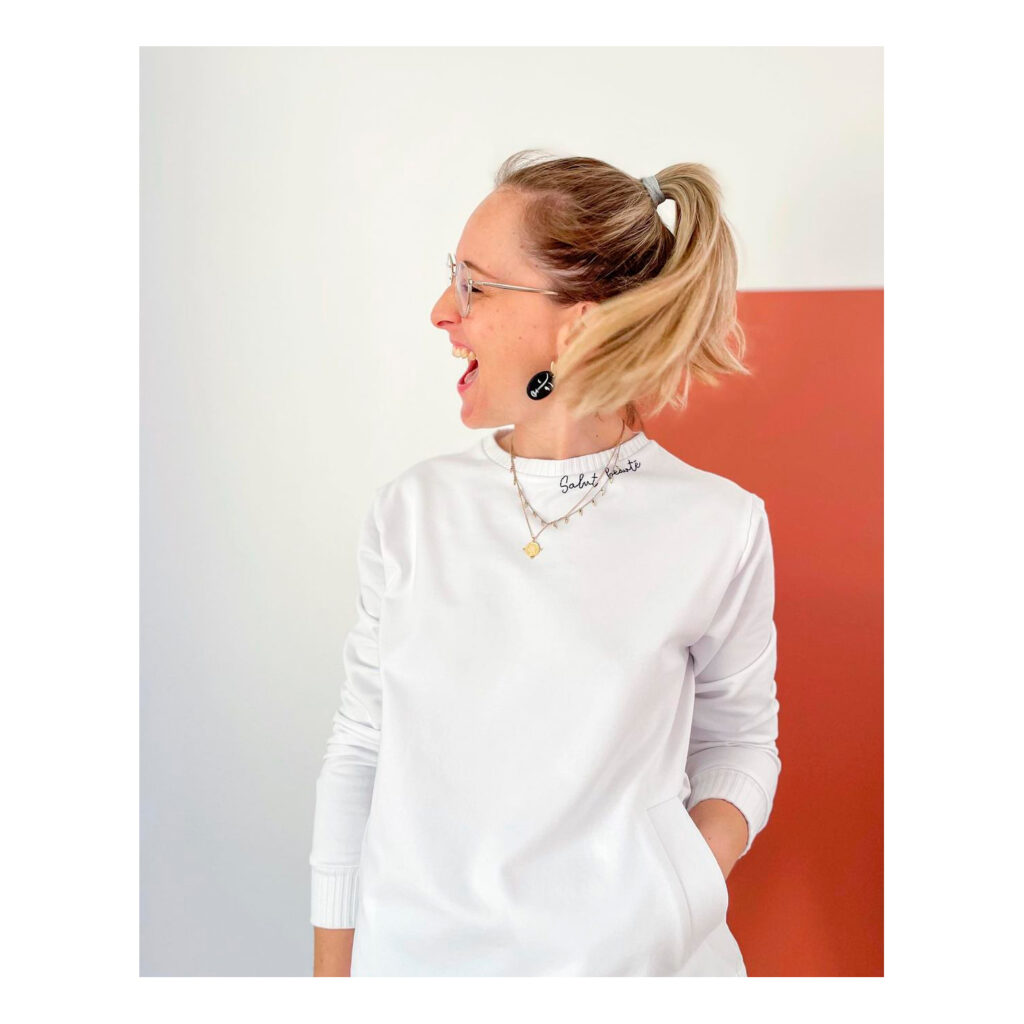 @blooming_sewing embroidered "Bonjour Beauté" (Hello Beautiful) on her I AM Rainbow.
5. Upcycle or use fabric scraps
Sewing your own clothes is good for the planet. We all know that. So, when we use fabric scraps to create a new garment we are even prouder than usual. And why not use fabric from garment you do not use anymore?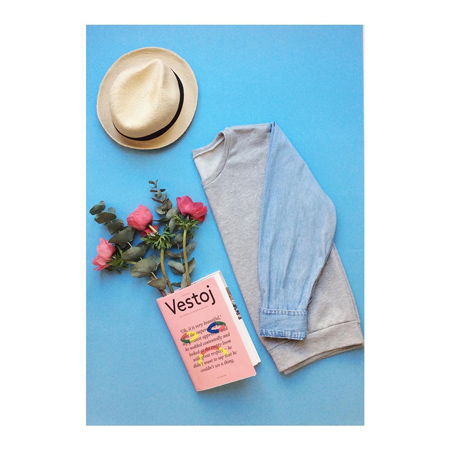 Marie-Emilienne of @iam_patterns recycled denim sleeves for this Apollon
4. Add ruffles
Now that you know how to cut your pattern to add a geometrical shape, you can easily add a ruffled band.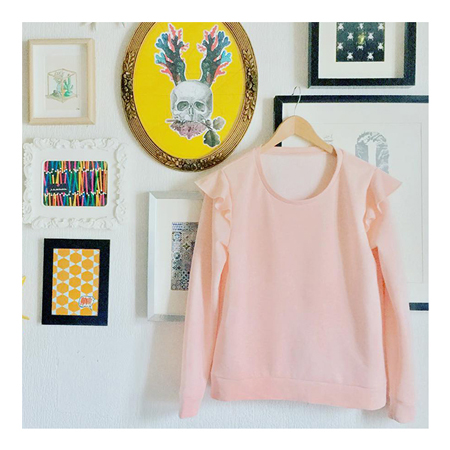 @zakadit added some ruffles to this sweatshirt and then gifted it to his little sister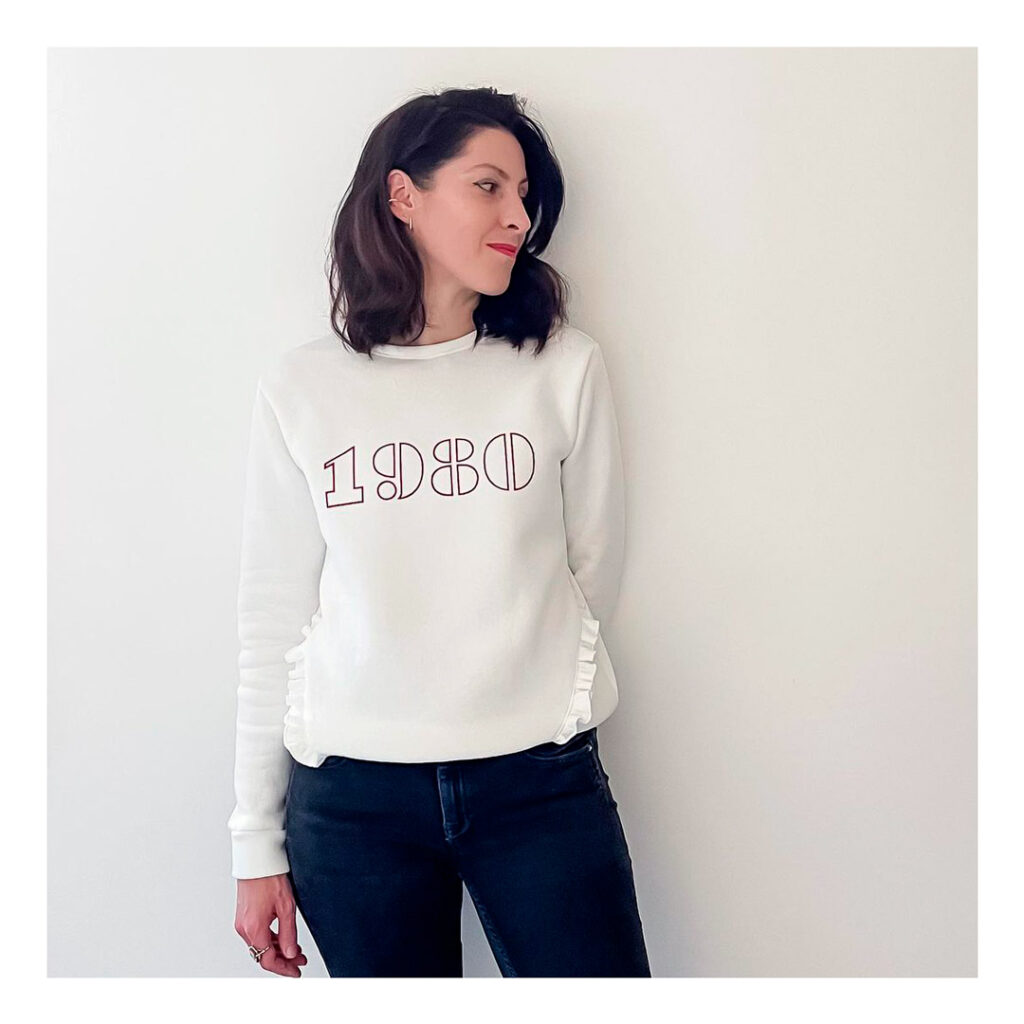 @unjolibazar added diagonal ruffles on the side of her Rainbow sweatshirt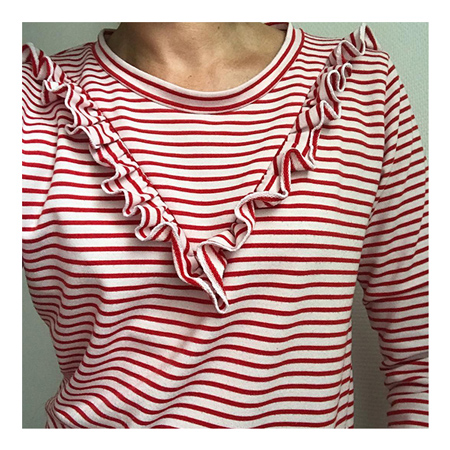 @karottecake75 and her lovely sailor shirt Apollon with added ruffles
7. Add pockets
The I AM Rainbow pattern already offers 3 types de pockets (kangaroo, welt and in-seam) but the other I AM sweatshirts don't have those. Here we show you two examples done using our Apollon sweatshirt.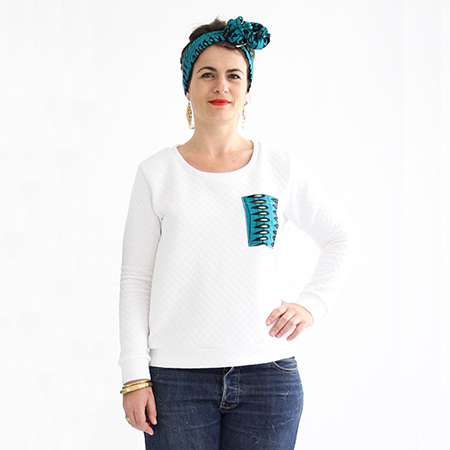 Marie-Emilienne of @iam_patterns sewed this patched on pocket for the I AM in Africa collection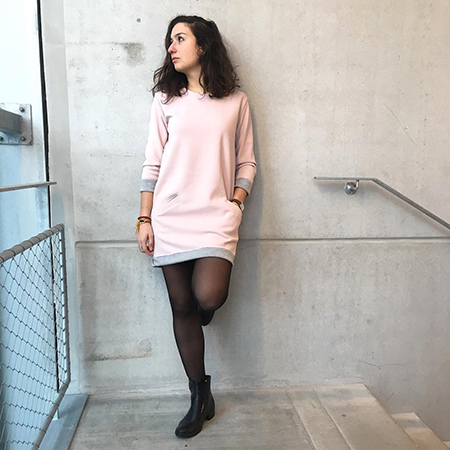 @l_atelier_de_blandine added welt pockets to her Apollon dress
8. Add volume for a baby bump
It is not easy to find maternity clothes and sewing patterns that fits a baby bump. But with a basic sewing pattern and a bit of imagination, we can do it.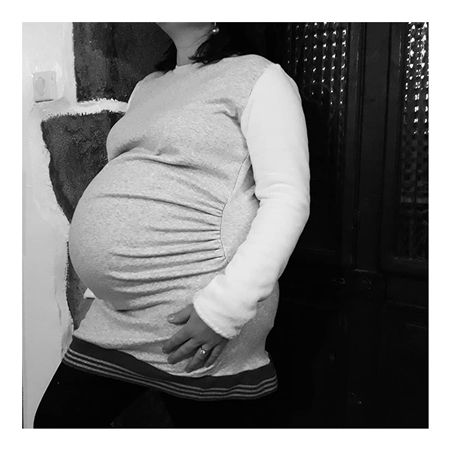 @marion.dg had the great idea to add some volume to her Apollon to welcome her baby bump
9. Add iron-on patches or heat-transfer designs
This is surely the simplest way to customise your sweatshirt. With just a bit of heat you'll have yourself a unique garment.
It is simpler to choose an already made iron-on patch. But you can also create the pattern of your choice and print it on transfer paper or even use a Cricut machine (or similar).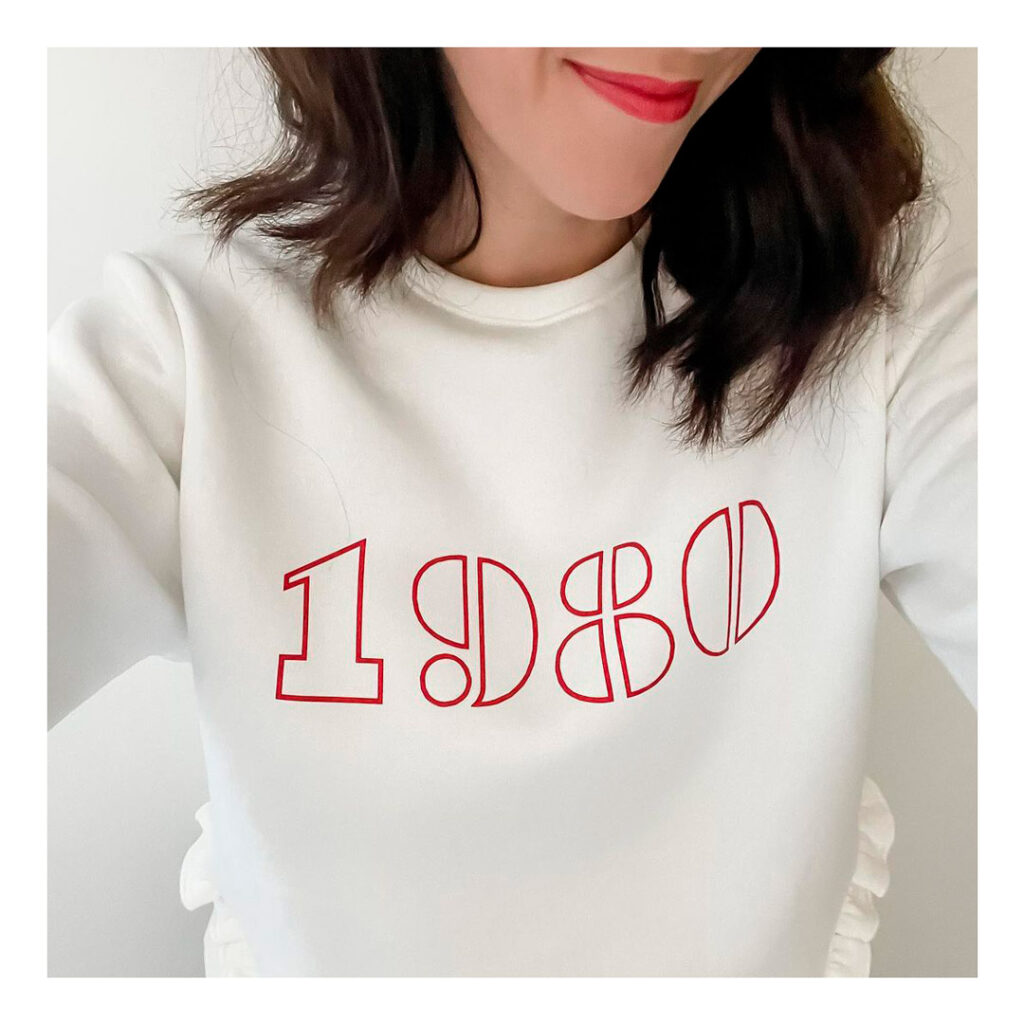 @unjolibazar added her birth year to her Rainbow sweatshirt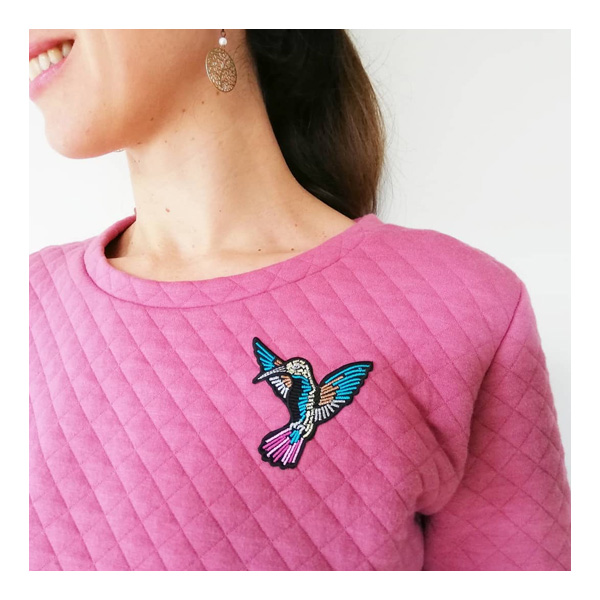 @ab_acia_et_acu added an iron-on hummingbird patch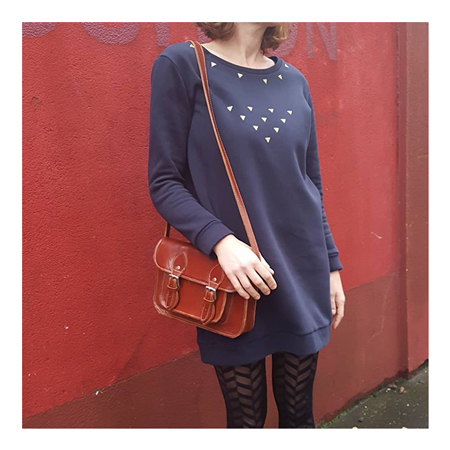 @yum007 chose to add some golden triangles that she ironed on
10. Modify the neckline
There are a lot of different ways to modify the neckline of a garment. @bee_made customised an Apollon creating a laced neckline and shows you how to do it on her blog (please note the article is only in French but has lots of pictures that can help you understand).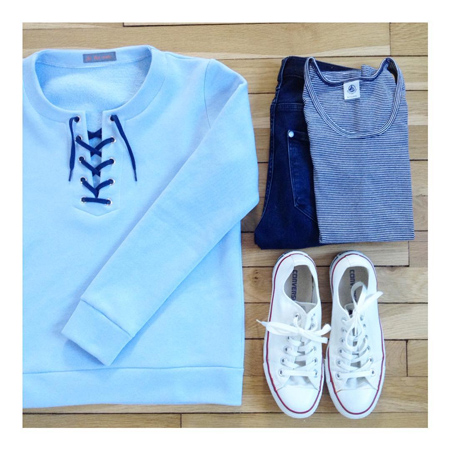 The laced neckline by @bee_made
We hope this article inspires you to sew yourself a customised sweatshirt. You can find the tutorial for creating your own colour block sweatshirt here and the laced neckline from @bee_made here.
Discover our range of sweatshirts for men and women and start sewing now.
Happy sewing!