Once upon a time Marie-Emilienne, a sewing pattern designer met Athénaïs a fabric designer. They got along straight away and decided to create a fabric collection together inspired by the tales of the East… That's the beginning of the "Eastern Wonders" collaboration between Atelier 27 and I AM Patterns.
When the collaboration started, Marie-Emilienne had already been working on the I AM Magic collection for a few weeks. She decides to create the patterns for the fabric so it matches the spirit of the sewing pattern collection.
Inspired by a much loved scarf which features a huge floral traditional pattern she starts cutting coloured papers and associate them together to create a modern and graphic pattern.
The Atelier 27 team pushed the idea further and re-worked it in painting to give it more texture and find our ideal motif. From this design Athénaïs and her team imagined three overall designs and one jacquard in two different colours.
All those fabrics are comfortable and lightweight without being see-through and they are easy to sew. Check them out now on Atelier 27's website as there might not be enough for everyone…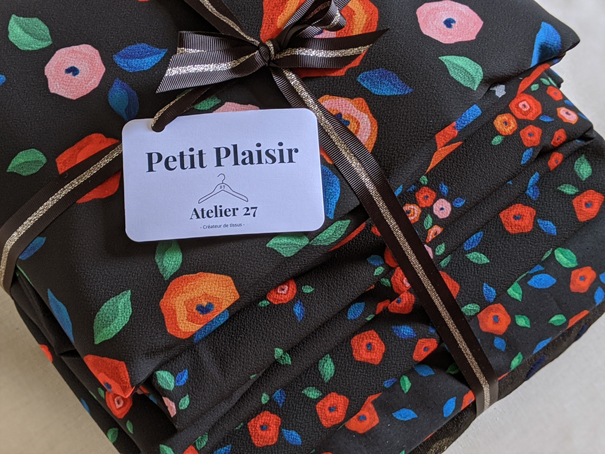 Discover the fabrics
Merveille
This is the favourite of the I AM Patterns' team. This is the biggest motif and has everything we love. It is full of joy, generosity, colours and is very modern. Marie-Emilienne has imagined using this fabric for a lot of different clothes but her first choice went to Irma. She is planning on sewing Panoramix and Lucienne as well and then she will use it as lining for Merlin or Jacques.
Délice
At the beginning this design was planned to be a lining but when Marie-Emilienne received it she loved it so much that she decided to make a beloved Cassiopée dress.
Magie
This one is the favourite of Athénaïs and her team. It is soft, discreet and has lots of personality. This motif has been printed on both crêpe and popeline fabrics so you can use it for any clothes you want. Blouses, shorts, trousers, shirts… The sky is the limit. We have used it to make a pair of Panoramix trousers and a Joy blouse.
The jacquards
Once again we did not know which colours to choose between the pink and the blue. So we've chosen to use them both on the I AM Julie skirt. Julie from @ateliersvila imagined this skirt during the pattern drafting course she attended in September 2020.