Description
PDF PATTERN:
The file contains the extra sewing pattern pieces and the instructions to sew the I AM Lucienne shirt with classic shirt cuffs. Please note, that you will need the I AM Lucienne sewing pattern.
Digital pattern formats:
A4 – to print at home – 6 pages
A3 – to print at work – we won't say anything… – 2 pages
All seam allowances are included in the pattern.
The different pieces don't overlap with each other. Once printed and assembled, simply cut the pattern at your size and start sewing.
The file will be emailed to you upon order completion. You will also be able to access the file anytime on your iampatterns.fr account.
Size 36 to 46 which is also the size range of the I AM Lucienne shirt. See measurement guide below.
Batiste, poplin, thin denim, viscose, double gauze
For this version of I AM Lucienne we used a fabric from La Petite Boîte A Coupon.
Shirt: 2 1/4 yards by 55'' wide
Tunic: 2 13/16 yards by 55'' wide
Dress: 3 5/16 yards by 55'' wide
Fabric
Buttons of 1/2'' to 5/8'' diameter:
Shirt: 9 boutons

Tunic: 12 boutons
Dress: 14 boutons
Stature: 1m65 / 5 feet 5 inches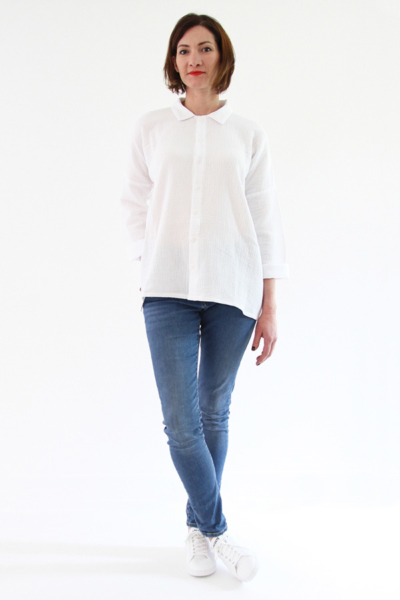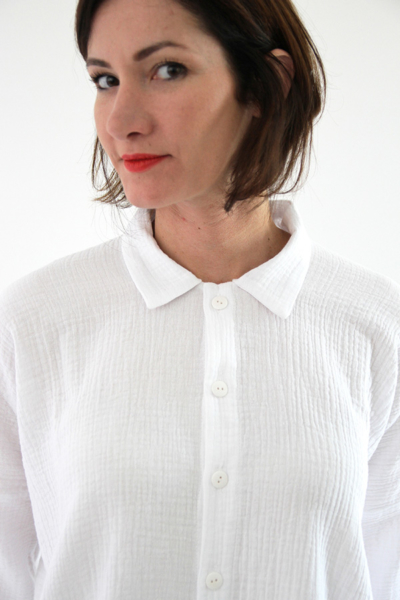 I am Lucienne, a vaporous and relaxed shirt. I have a buttoning on the front and a shirt collar and rolled up sleeves. Shirt, tunic and dress, I am available in 3 lengths. In a delicate see-through cotton voile, I will be your best friend for a holiday in the sun.
Simple and fast to make, I will charm both the experienced and beginner sewists.
You will need the original pattern to sew the I AM Lucienne shirt with classic shirt sleeves.