Description
I AM Sophisticated is a bundle of 2 sewing patterns: the I AM Jain top and dress and the I AM Roméo skirt.
The file contains both digital sewing patterns in pdf format along with a step by step illustrated explanation guide for each.
Digital pattern formats:
A4 and US Letter – print at home
A0 file (aka: copyshop, printshop, wide files) – print at a copy shop
All seam allowances are included in the patterns.
The different pieces don't overlap with each other. Once printed and assembled, simply cut the pattern at your size and start sewing.
The file will be emailed to you upon payment. You will also be able to access the file anytime on your iampatterns.fr account.
Size 36 to 46. See sizing guide below.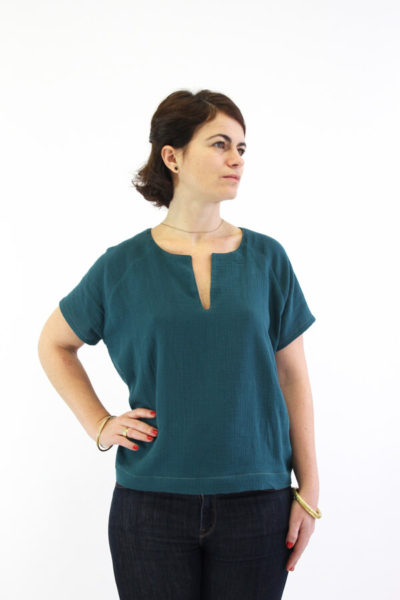 I AM JAIN
LEVEL: SIMPLE
My apparent simplicity disguise a light-hearted and amusing side. I am both a top or a dress. I have batwing sleeves with a diagonal cutout for a raglan effect. My sleeves can be short, or long with elasticated cuffs. My slit in front accentuates my feminine side.
RECOMMENDED FABRICS:
Plain weave cotton, crêpe, chambray, denim, corduroy, wax, flannel, linen, viscose, and much more
FABRIC REQUIREMENTS:
Short sleeve top: 1 3/8 yards by 55" wide
Long sleeve top: 1 3/4 yards by 55" wide
Dress: 2 1/4 yards by 55" wide
SUPPLIES:
Fabric
Long sleeve versions: 3/8" wide elastic tape: Sizes 36/38 = 2 x 9 7/8″, Sizes 40/42 = 2 x 10 1/4″, Sizes 44/46 = 2 x 10 5/8″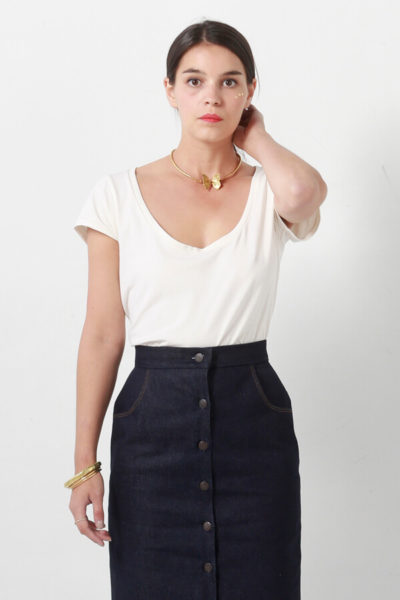 I AM ROMÉO
LEVEL: SIMPLE
I am a denim skirt. A drop of sensuality, a pinch of audacity and a spark of classicism. Unique as you are, I will go with you everywhere.
RECOMMENDED FABRICS:
Skirt: Denim, crepe-de-Chine, chambray
The skirt is designed to be quite snug so it's better to get a fabric that stretches widthwise.
Pocket lining: Cotton batiste
FABRIC REQUIREMENTS:
Skirt: 1 1/8 yards by 55" wide
Pockets lining: 12" by 55″ wide
FOURNITURES :
Fabric
7 buttons of 5/8″ (1,5 cm) diameter