Description
This bundle contains the sewing patterns in pdf formats for the Emilien classic sailor jumper and Milor t-shirt patterns.
The file contains both digital sewing patterns in pdf format along with a step by step illustrated explanation guide for each.
Digital pattern formats:
A4 and US Letter – print at home
A3 – print at work (we promise we won't say anything)
A0 file (aka: copyshop, printshop, wide files) – print at a copy shop
All seam allowances are included in the patterns.
The different pieces don't overlap with each other. Once printed and assembled, simply cut the pattern at your size and start sewing.
The file will be emailed to you upon payment. You will also be able to access the file anytime on your iampatterns.fr account.
Size 36 to 46. See sizing guide below.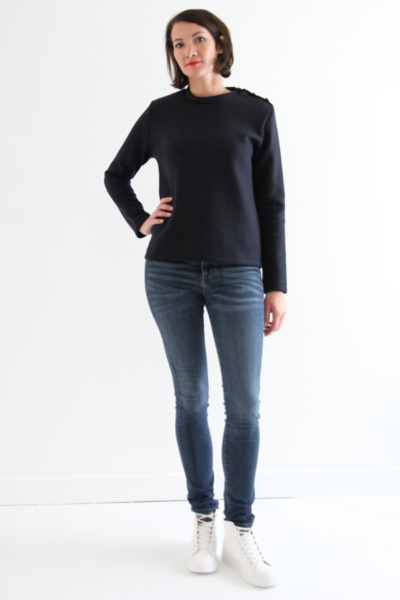 I EMILIEN
LEVEL: SIMPLE
I am Emilien, the classic sailor jumper for women. My principal feature is my left shoulder button placket which opens and closes using 3 snap fasteners. In a navy blue woollen fabric, I'll be your partner for the seaside. But you can also sew me in more sporty or urban versions with jersey knits.
RECOMMENDED FABRICS:
Jersey for sweatshirt, jersey knits, Milano jersey
Our version was sewn with a fabric from Atelier de la Création.
REQUIRED FABRIC:
1 11/16 yard by 55'' wide
SUPPLIES:
Fabric
3 snap fasteners of 1/2'' diameter
1 ball point needle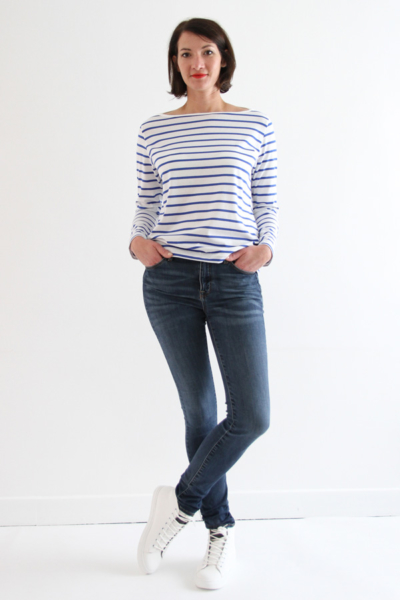 I AM MILOR
LEVEL: SIMPLE
I AM Milor, a classic t-shirt with a delicate boat neckline. You sew me in 4 versions as my neckline can be finished in 2 ways (with or without bias tape) and 2 sleeve lengths. I am as easy to sew than I am to wear. What makes my charm? My timeless design of course. In a stripy fabric for a weekend at the seaside or in a plain jersey underneath a jacket for a relaxed meeting, I will follow you everywhere you go.
RECOMMENDED FABRICS:
Jersey for T-shirt
We used the stripy Ouessant fabric from Un chat sur un fil for the long sleeve version and fabric from Marie-Emilienne's personal collection for the short sleeve version.
REQUIRED FABRIC:
Short sleeve version: 1 yards by 55" wide
Long sleeve version: 1 1/2 yards by 55" wide
SUPPLIES:
Fabric
1 twin needle (4 mm spacing) or 1 ball point needle
Neckline with bias tape: 1 1/4 yards of jersey bias tape